Practicing makes it possible to aim for our desired scores, even high overall scores in the Duolingo English Test. The DET is actually no different from other English proficiency tests, such as IELTS, TOEFL, or PTE when it comes to testing English skills. Therefore, students already have countless methodologies to improve their general English skills. However, it's a bit more challenging for the DET as this is the newest (when this article was published) accepted test.
If test-takers want to find out more information about the Duolingo English Test, feel free to take a look at this article, "What is the DET" to have a better understanding.
As far as we're concerned, there are several ways to help students get used to all question-type formats because, after all, students need to fully comprehend all question types in order to utilise their skills. And the best way to get to know all question types is to immerse ourselves in the DET Practice Platform – learning through practicing.
I. Free practicing question sources
1. 15-minute test from Duolingo
Advantages
Unlimited: Students can take as many times as they like.
Estimated scores: Students get Estimated overall scores based on all questions they take immediately.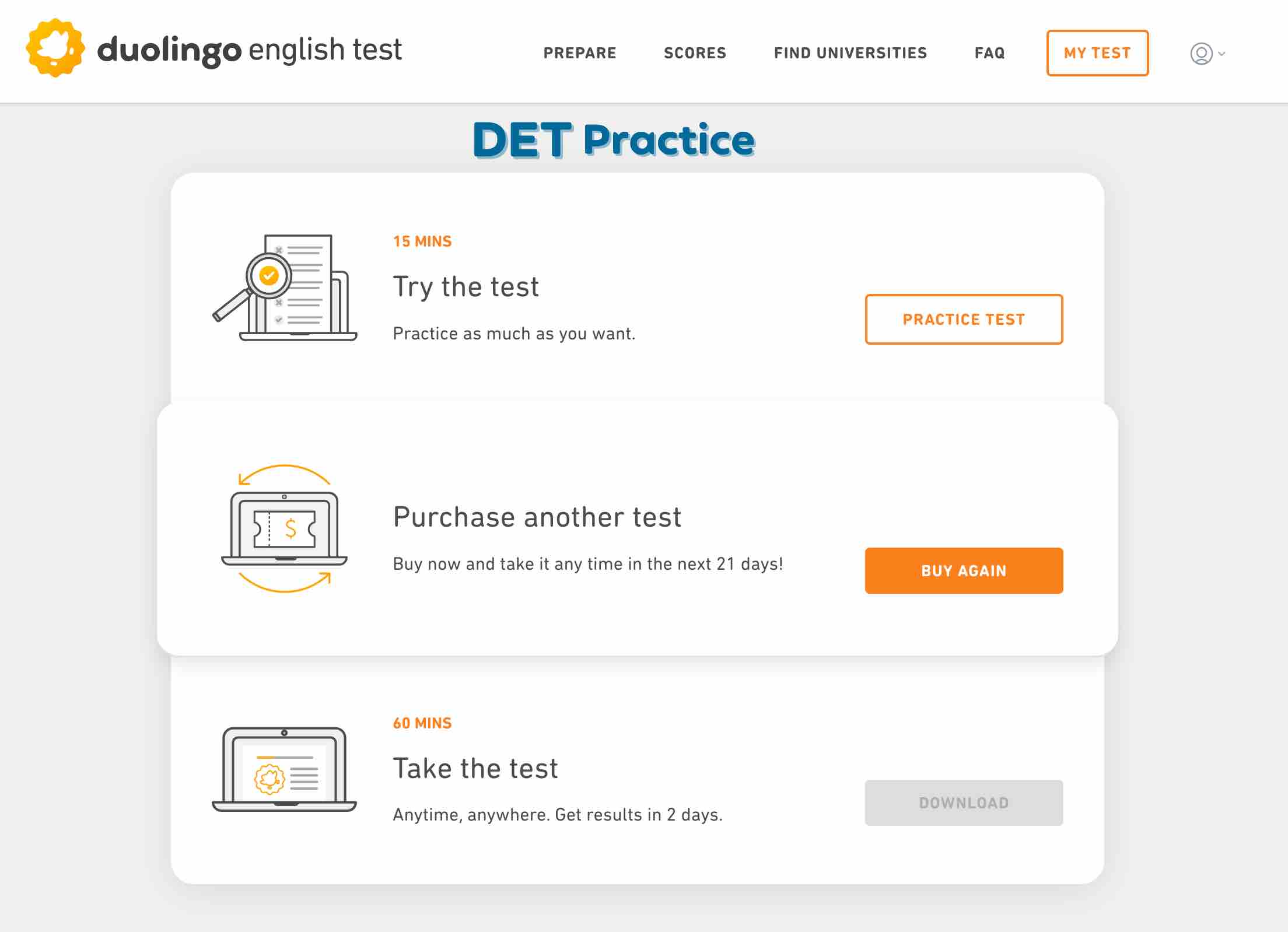 Disadvantages
Only 15 minutes: The test only lasts for 15 minutes, which is not really accurate for evaluating our scores. Therefore, some test-takers get a huge range of scores, which makes them confused about their proficiency.
Not include all question types: Test-takers may only experience some question types but not all. This is also one of the reasons why there is a huge range of estimated scores.
Repeated questions: If we take the 15-minute test the second time, we may already see repeated questions. This free test is created to help test-takers get to know the format, not for preparation.
2. Hundreds of questions on our YouTube channel
Advantages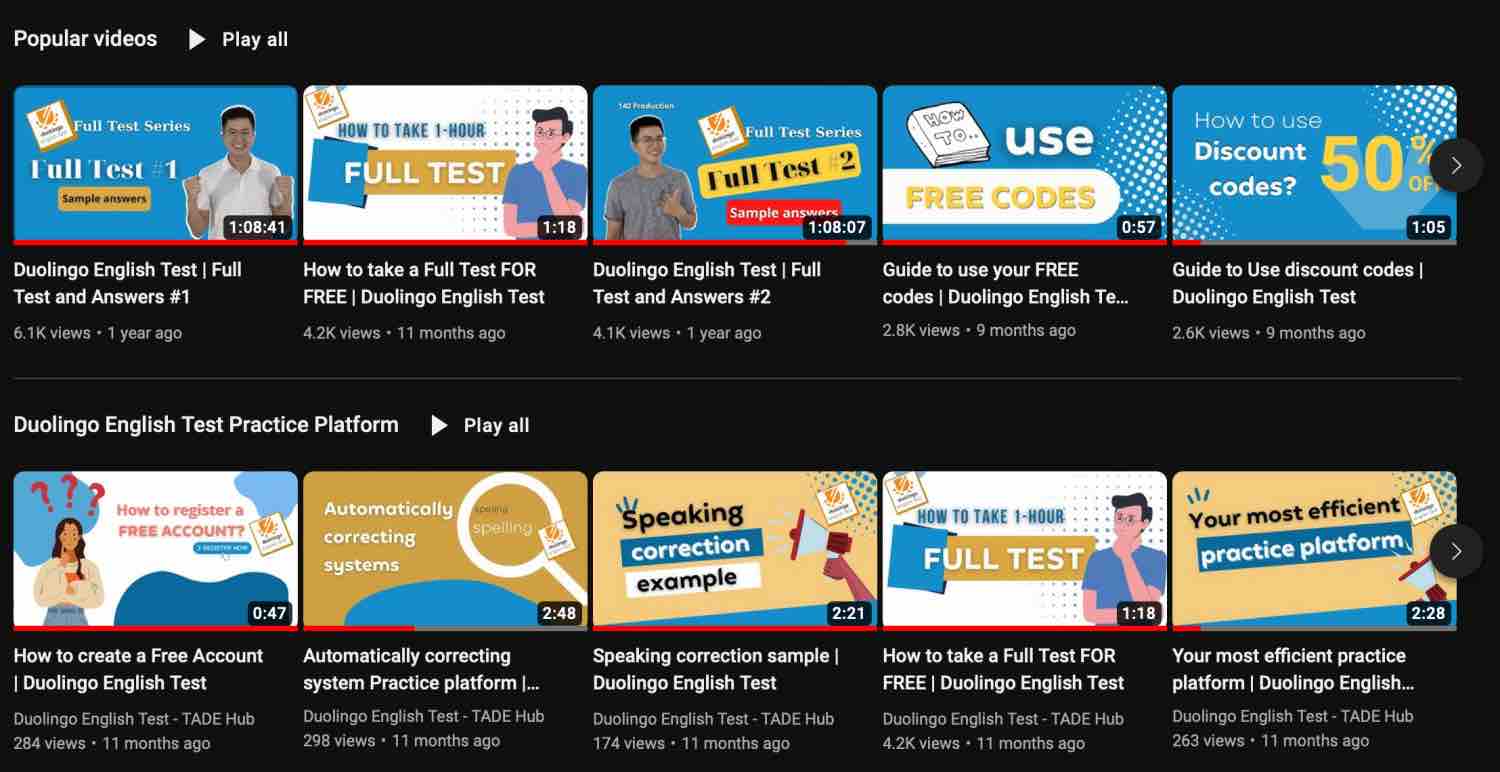 Feedback: At the end of each question, students can check correct or sample answers to see if they do a good job or not.
Disadvantages
No interaction: Surely, they're all YouTube videos, so there is no interaction at all. This makes the practice time less interesting and effective.
No estimated scores: There's no way that we have estimated scores while practicing on YouTube. Estimated scores are only delivered when there's a technology-based platform.
3. Free accounts from DET Practice Platform - TADE Hub
As it offers free accounts, users can access up to 20 questions, 1 Interactive Reading set, and 1-hour full test on a daily basis.
Advantages
Instant feedback: Even though it's a FREE account, students can also receive feedback immediately based on the same grading elements that the Duolingo English Test evaluates test-takers' English proficiency, including Grammar Accuracy, Lexical Sophistication, Lexical Diversity, Fluency, and Acoustic Features.
Practice taking real tests: Everything's no different from taking a real test. The Practice Platform is designed to offer the closest experience, so test-takers can prepare themselves the best to face upcoming challenges.
Full test estimated scores: The most special one is here! Users can take 1-hour Full Test for free and get their estimated overall scores, sub-scores, and even question-type scores to completely understand their current levels and create a suitable plan to pursue.
Feedback history feature: Users can re-check their Speaking answers and Full Test feedback at any time later in 24 hours, which helps test-takers optimise all available feedback to improve their mistakes for higher DET scores.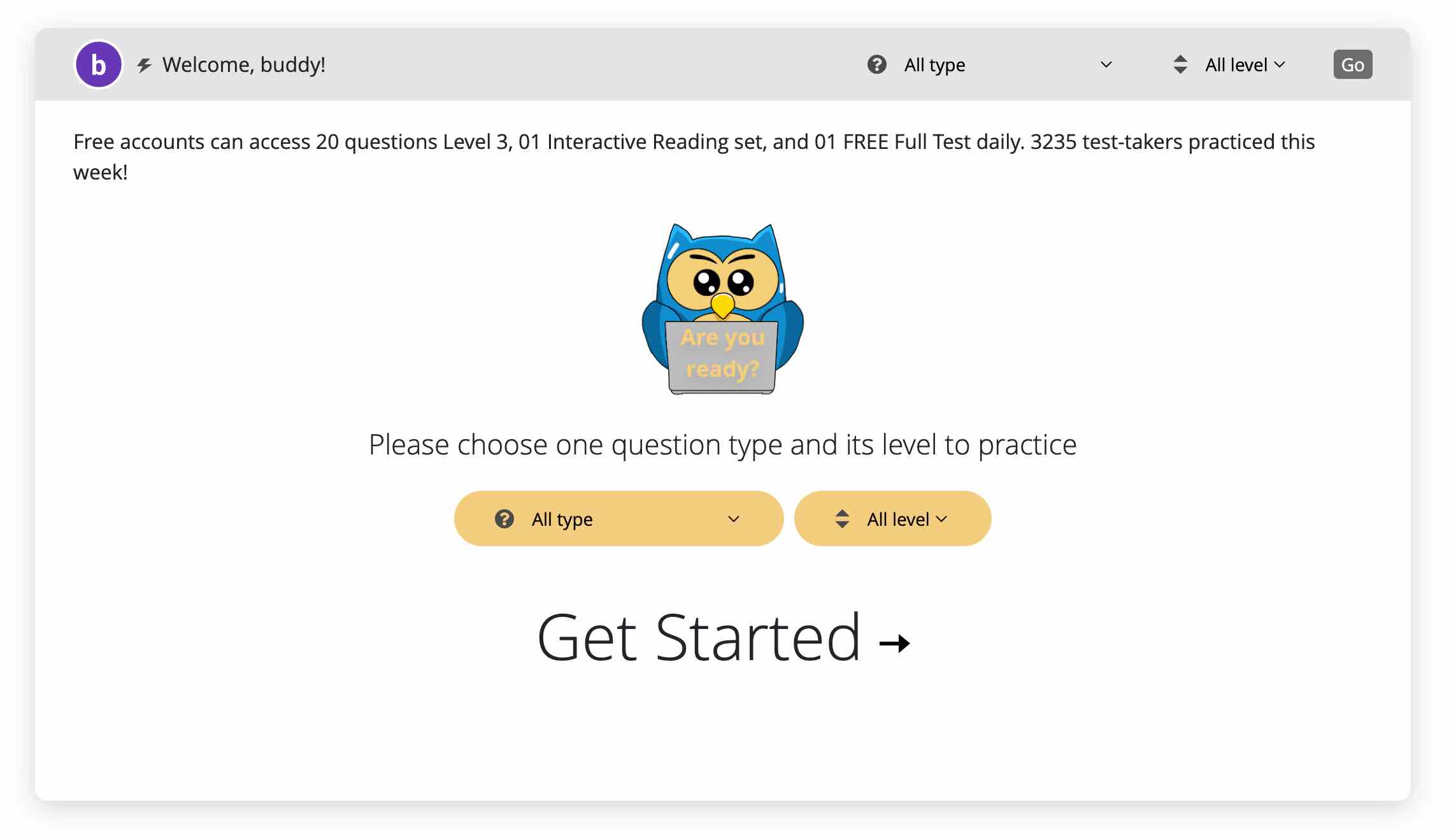 Disadvantages
A small library: The only drawback is its small library for FREE accounts. If test-takers need more practicing questions on the DET Practice Platform, feel free to take the Premium accounts into consideration.
II. Paid practice materials
If 20 questions, 1 Interactive Reading set, and 1-hour full test are not enough for students, they can consider becoming a Premium member on the DET Practice Platform. It offers the following benefits:
~ 3,000 practicing questions;

~200 Interactive Reading sets;

Instant feedback for all question types;

At least 15 Full DET Practice tests;

An integrated dictionary;

Three supportive vocab lists;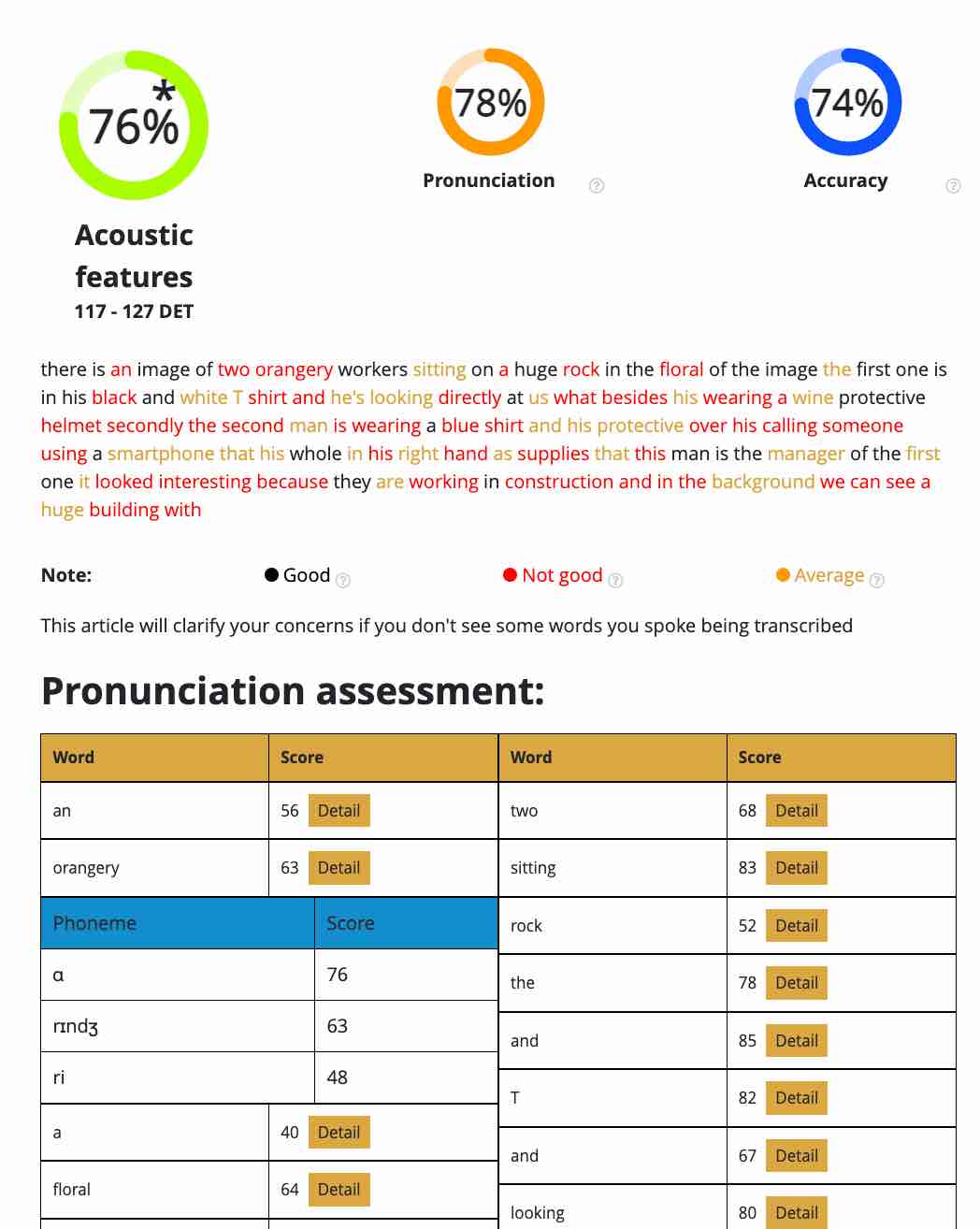 Note: Above is the number of available questions by the time this article was published. The Academic team will keep adding more questions to the library on a weekly basis. With the Premium accounts, there will be NO extra costs!
What are you waiting for!? Go to the DET Practice Platform, create your FREE account, and experience all benefits before becoming our Premium members.
If test-takers want to find other DET Practice Platforms, please refer to DET Ready owned by Teacher Luke. We strongly recommend users should experience all available platforms to find the most suitable ones.
Moreover, to increase the possibility of getting our desired DET scores, the Duolingo English Test Preparation course plays a critical role in helping students utilise their skills and improve their general English in order to achieve the highest score possible. Our DET Preparation course is brought to you by a ten-year-teaching experienced trainer originally from Australia, including the following benefits: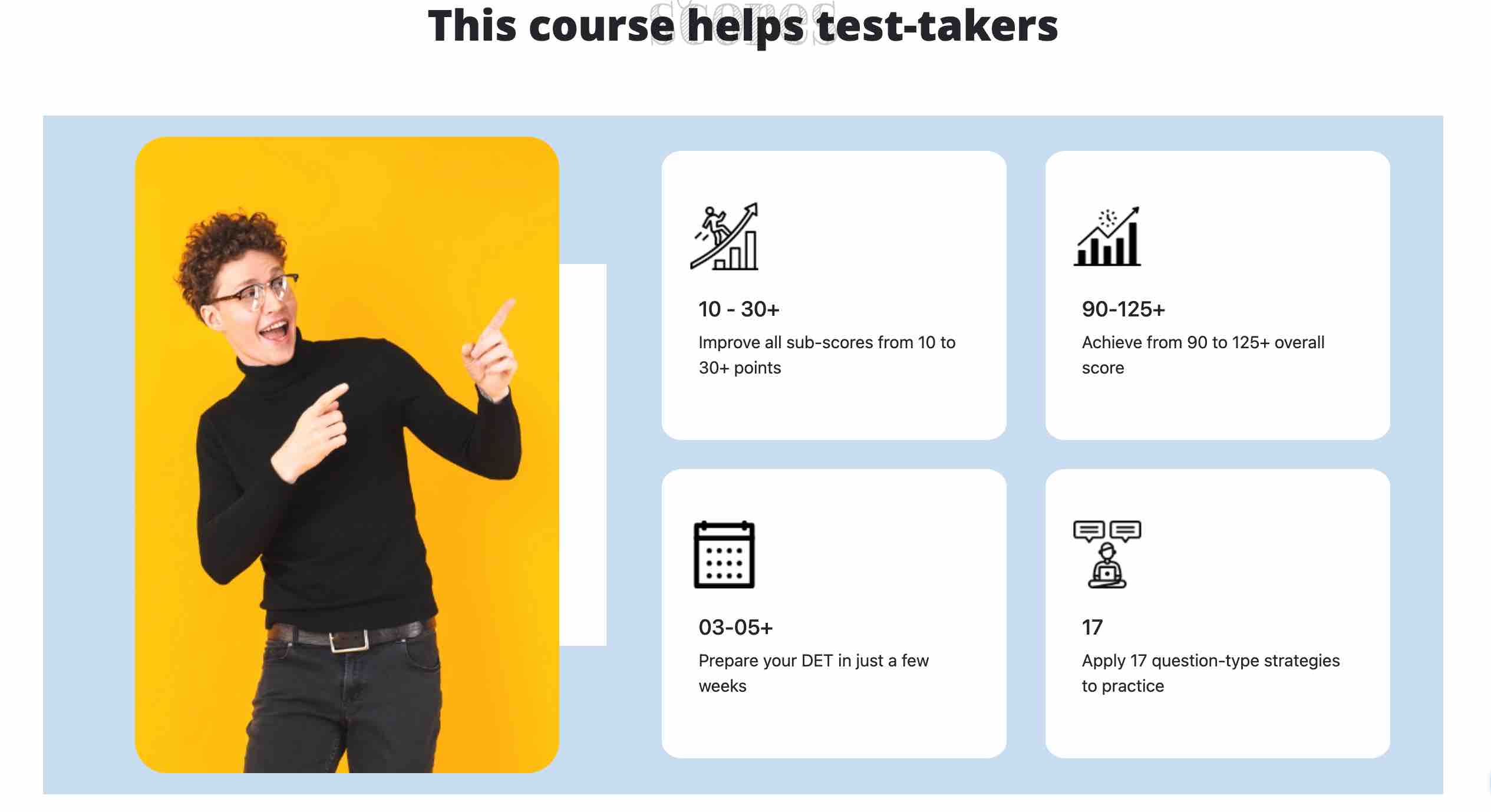 23 on-demand training lessons;

23 DET training PDF files;

01 community only for course-takers;

At least 06 months of access;

Up to 90-day Premium account;

Up to 30-day of private support;

English and Vietnamese subtitles are available (more are coming).
Share with us in the comment section of your favorite DET Practice Platform and DET Preparation course, it will be helpful to lots of other test-takers!