First of all, we are very sorry for all the inconvenience you have experienced so far.
We list out all possible problems you may face while practicing on your DET Practice Platform and how to solve them.
Let's get started.
0. Are DET Practice - TADE Hub questions 100% the same as real test questions?
The answer is NO. Our practice questions are similar to real test questions, not 100% as questions in the DET. If DET has a question: "Who do you resemble the most in your family?"; our question will be like, "Who do you like or respect the most in your family?".
The purpose of all DET Practice Platforms is to offer you practice questions, so you can get familiar with all question types and know how to utilise your skills. Because the best way to prepare for your test is to improve your general English and practice as many questions as you can. Additionally, you should know that the DET question pool is extremely large, so there are no ways to study some specific questions and expect to see them on your test day.
1. For Speaking questions only, some words weren't transcribed
When we say Speaking questions, they include Speak About the Photo, Read then Speak, and Listen then Speak. Besides, the following notices are not technical issues. They are simply some situations that you will likely experience while practicing, so we would like to inform you in advance.
Additionally, our DET Practice Platform provides instant feedback for all question types, not only Speaking questions. So we suggest you read this article, "Your DET instant feedback and all grading elements" to fully understand all estimated scores on our Duolingo English Test Practice Platform.
a. If you speak over 60 seconds
If you only see words in the first 60 seconds being transcribed to text, it's completely normal because that's how our system works. We transcribe the first 60 seconds to maintain stability and ensure the speed of your DET Practice Platform. Sometimes, you need more time to receive feedback because there are thousands of students practicing at the same time as you besides your speaking time. No worry, it still works normally!
b. Some words don't appear regardless of your speaking time
Sometimes, you will not see words you want to speak, such as "surveys" in the image. Instead, you wanted to speak the word "speaking". In this case, please listen to your audio recording carefully because it's possible that you have made a pronunciation mistake, so the system was not able to transcribe it correctly.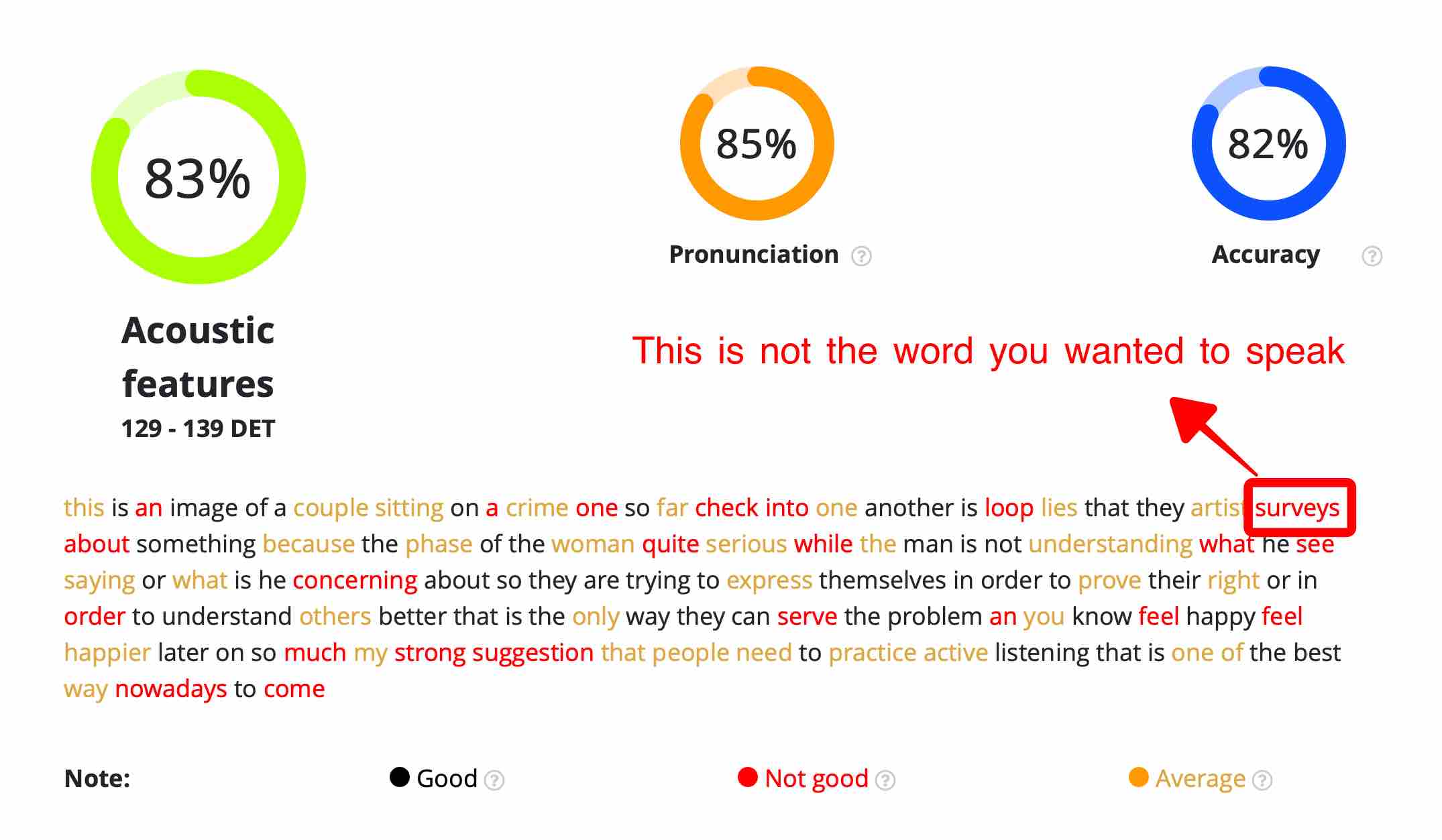 2. To ensure you receive Estimated scores after completing your Full Test
Some test-takers couldn't receive Estimated scores after completing their Full Test, and the screen kept processing without end. There are several suggestions that you should check your computer or laptop beforehand to ensure you will get your Duolingo English Test estimated scores.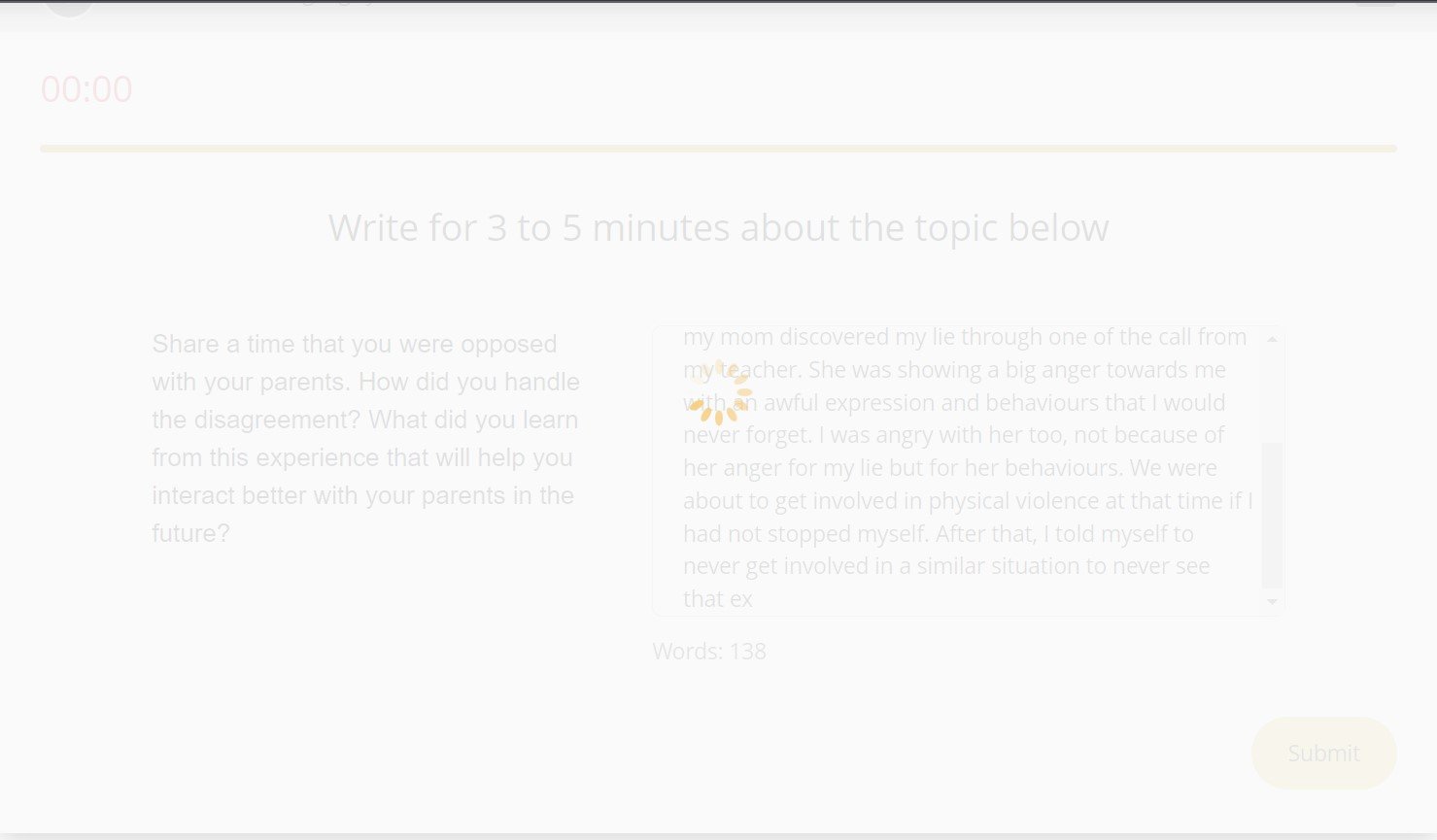 Provide permissions to assess audio on your web browser: Sometimes, test-takers forget to do this, so our system cannot evaluate their skills due to a lack of data.
Set English as the default input language: We all have our mother tongue, so make sure that you use English in the beginning to take the test.
Stop all ad-block applications: You need to stop your advertisement block application or any software apps that interfere with our system.
Delete all cache: Delete all cache and test again if you don't receive estimated scores.
Please take your Practice Full Test in a quiet place.
Update your Operating System regularly because the old ones could cause technical issues.
It rarely happens that test-takers cannot use their delete button; the main reason is because of "application conflict". Simply put, some applications are not compatible with our Practice Platform. No worries, we have several ways to solve this issue.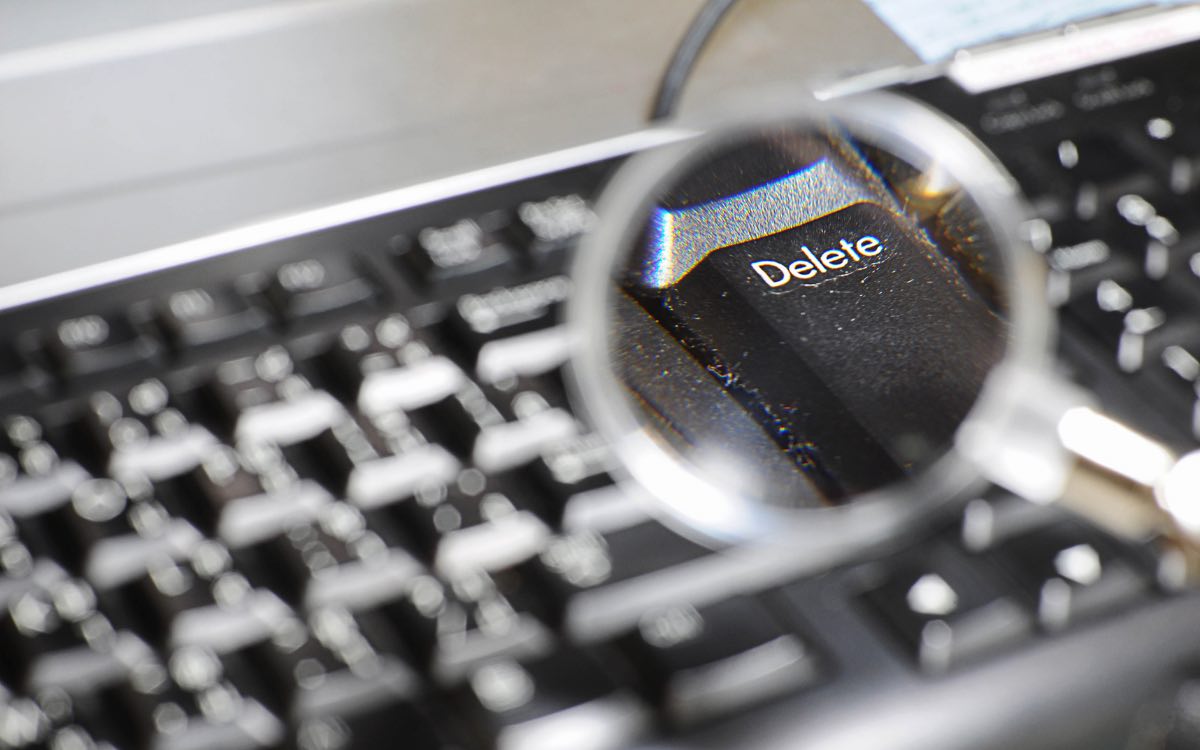 Set English as the default input language: Test takers come from all parts of the world, so they may accidentally use their mother language as an input. Please change it to English and test again.
Turn off all ads prevention applications: Ads prevention applications or some extensions affect java script, so turn them off for a while when you practice.
Close the platform or shut up your computer and turn it on: When you open too many websites or applications that you don't acknowledge, the best way is to shut up your computer and turn it on.

Try to connect with a new keyboard:

Sometimes, the old one is not compatible with our Practice Platform, so you may need to test the new one.
4. Read Aloud, or Speaking questions do not show feedback
Have you seen the following images?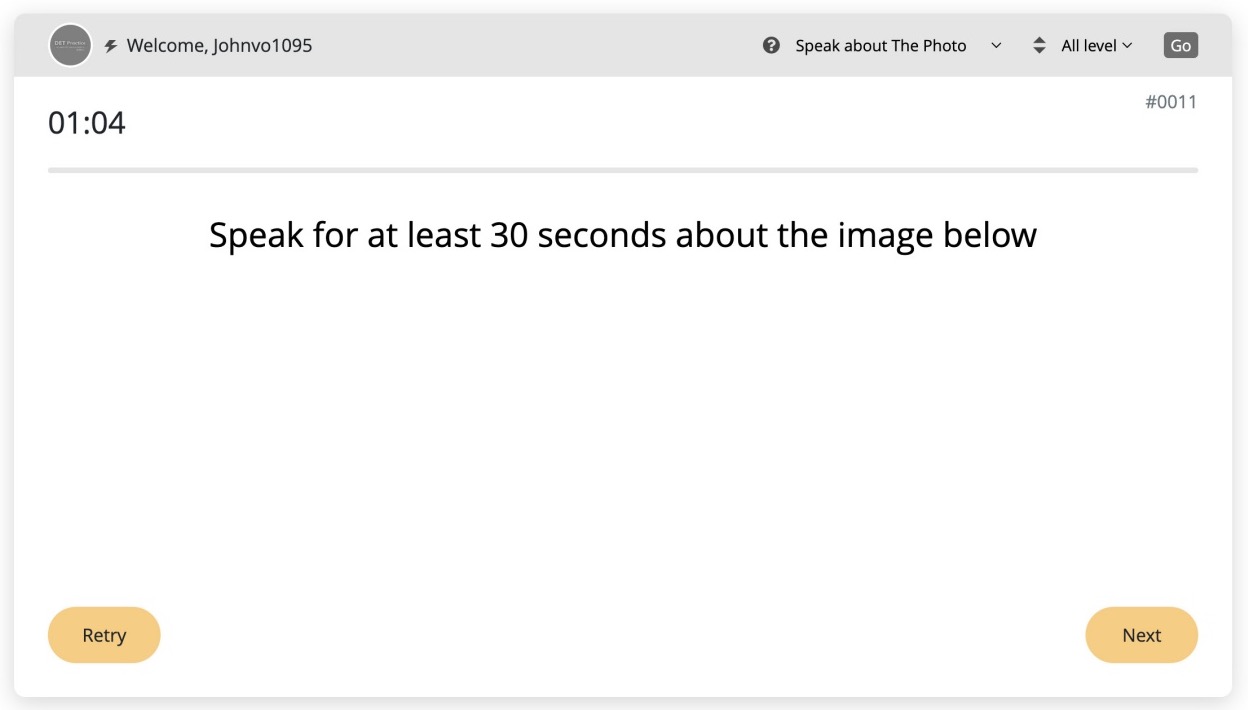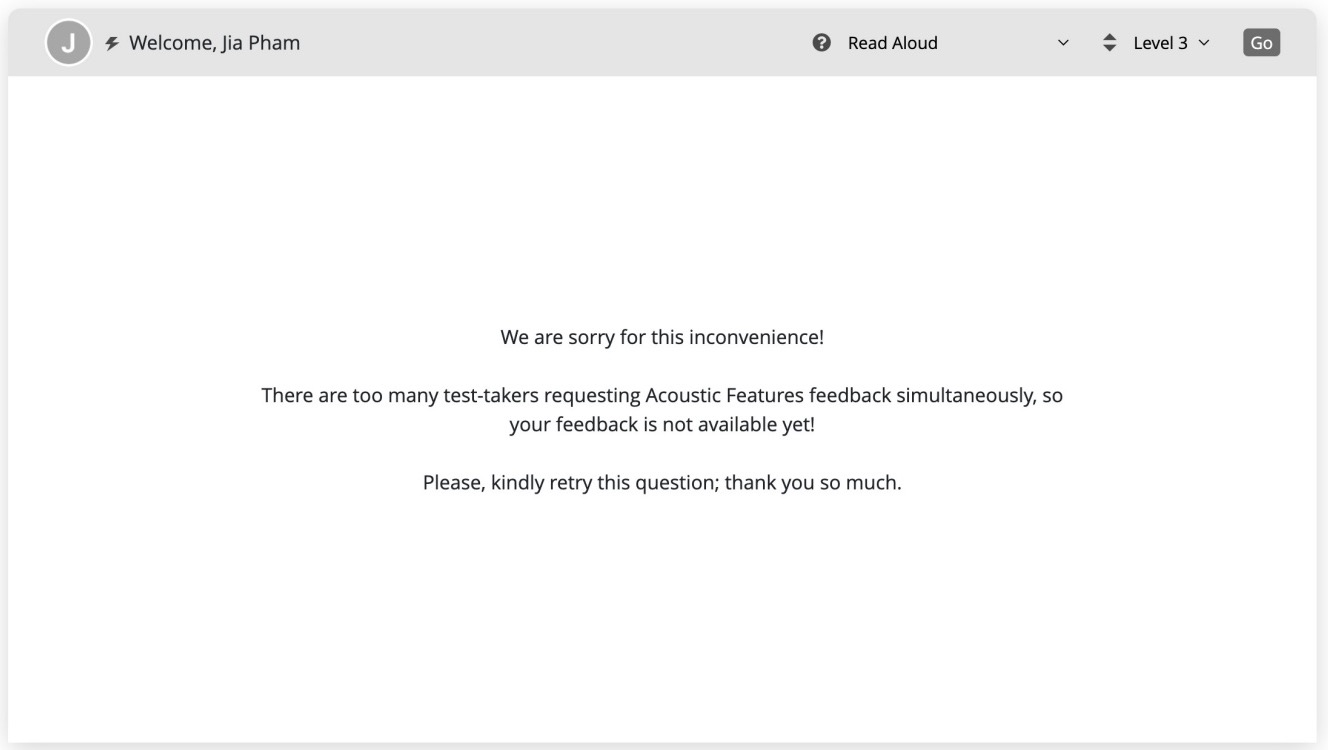 This may happen when too many test-takers practicing Speaking questions at the same time, but do not worry because we rarely experience this issue. In case you experience more than three times in a day, please kindly send screenshots as above for our evaluation to this email support@detpractice-tadehub.com. We will share 1 FREE Premium day code to appreciate your support.
5. Grammar or spelling problems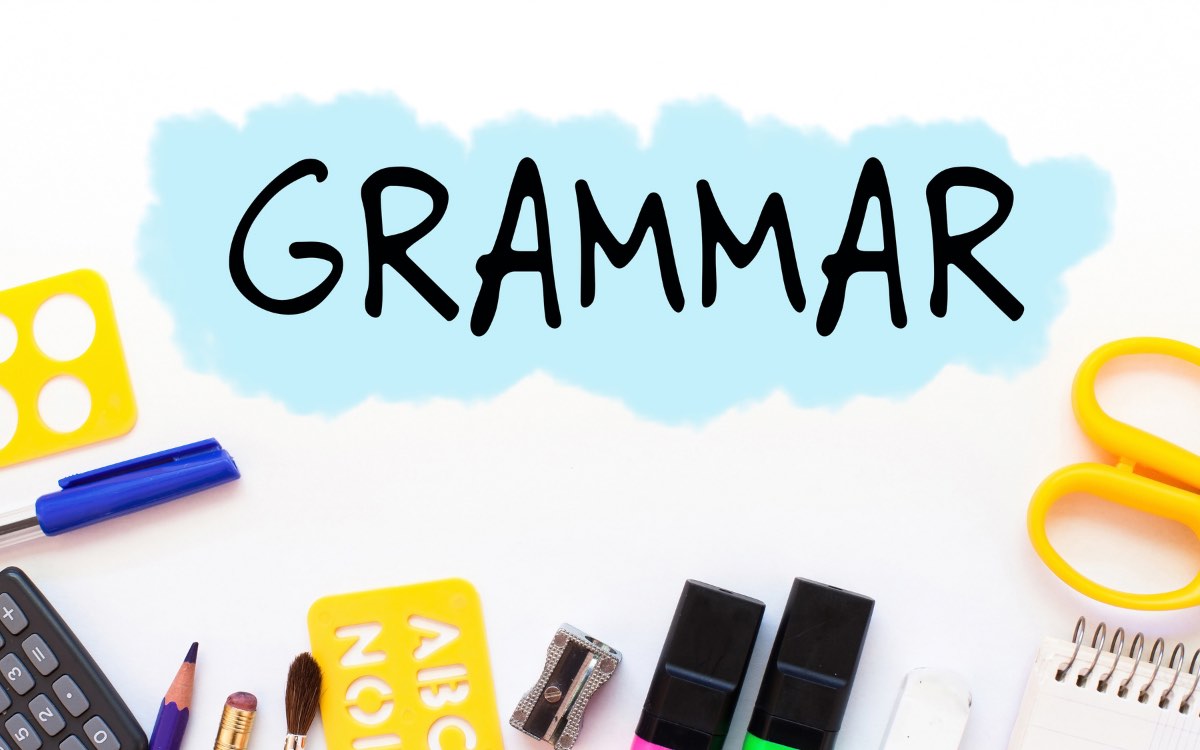 When you see grammar or spelling mistakes, kindly share them with our community. We will share a 1 FREE Premium day code within 24 hours after confirming your submission. With the Premium account, you can access all practice questions and instant feedback on our DET Practice Platform.
When you submit, please include the hashtag #mistakes.
6. The integrated dictionary does not work
Our dictionary is built with millions of words, but there are still words that we don't have in our library yet. Therefore, if you double-click a word for meanings and we don't have it in the library, you will not see it appears. Usually, you will see a word's meaning in 2-3 seconds if we have it in our library.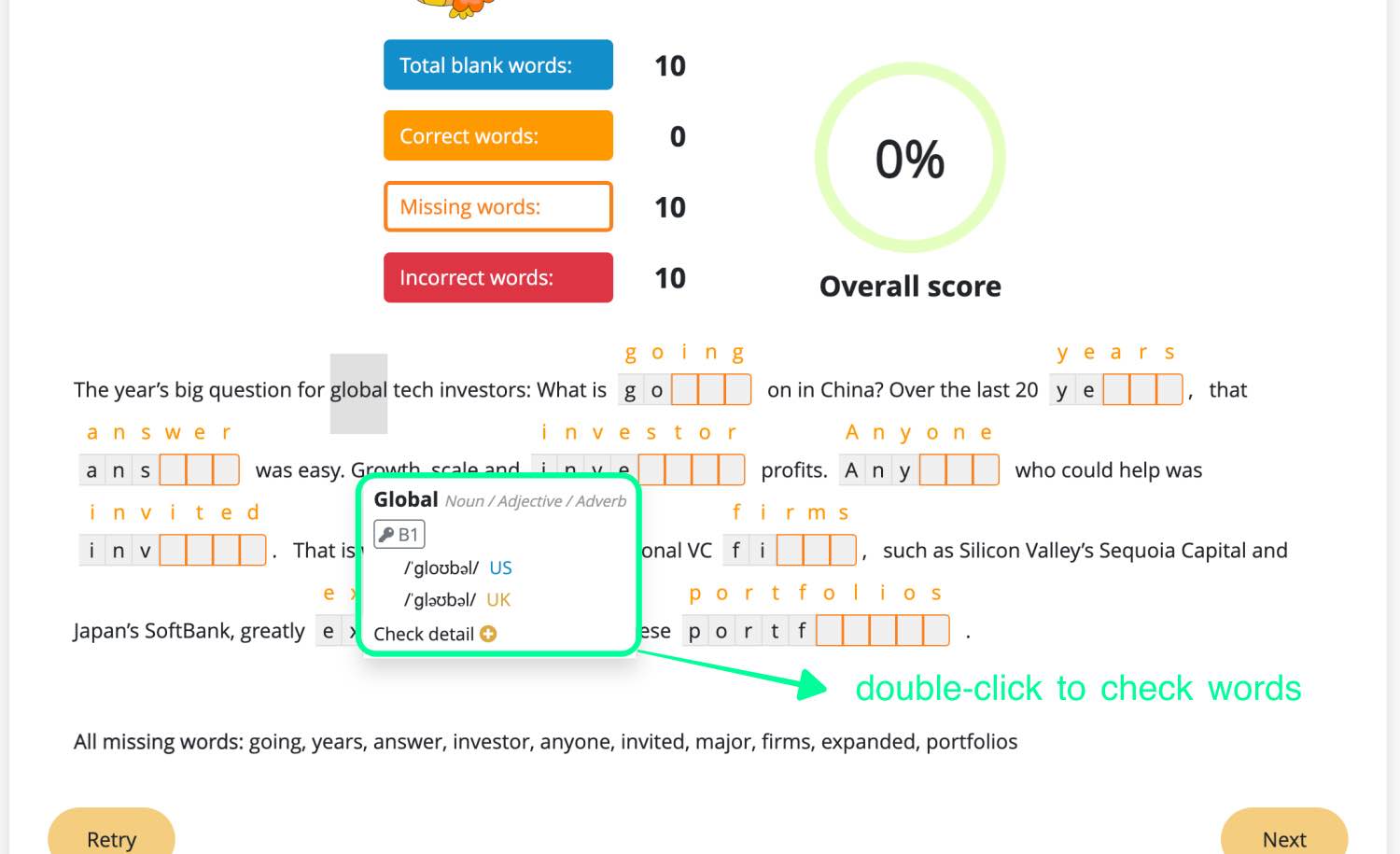 In this case, we strongly suggest you use the following dictionaries:
Oxford Learner's Dictionary

Cambridge Dictionaries
7. The result of the Read and Complete questions is not correct
If you see the below feedback, you need to set English as the default input language.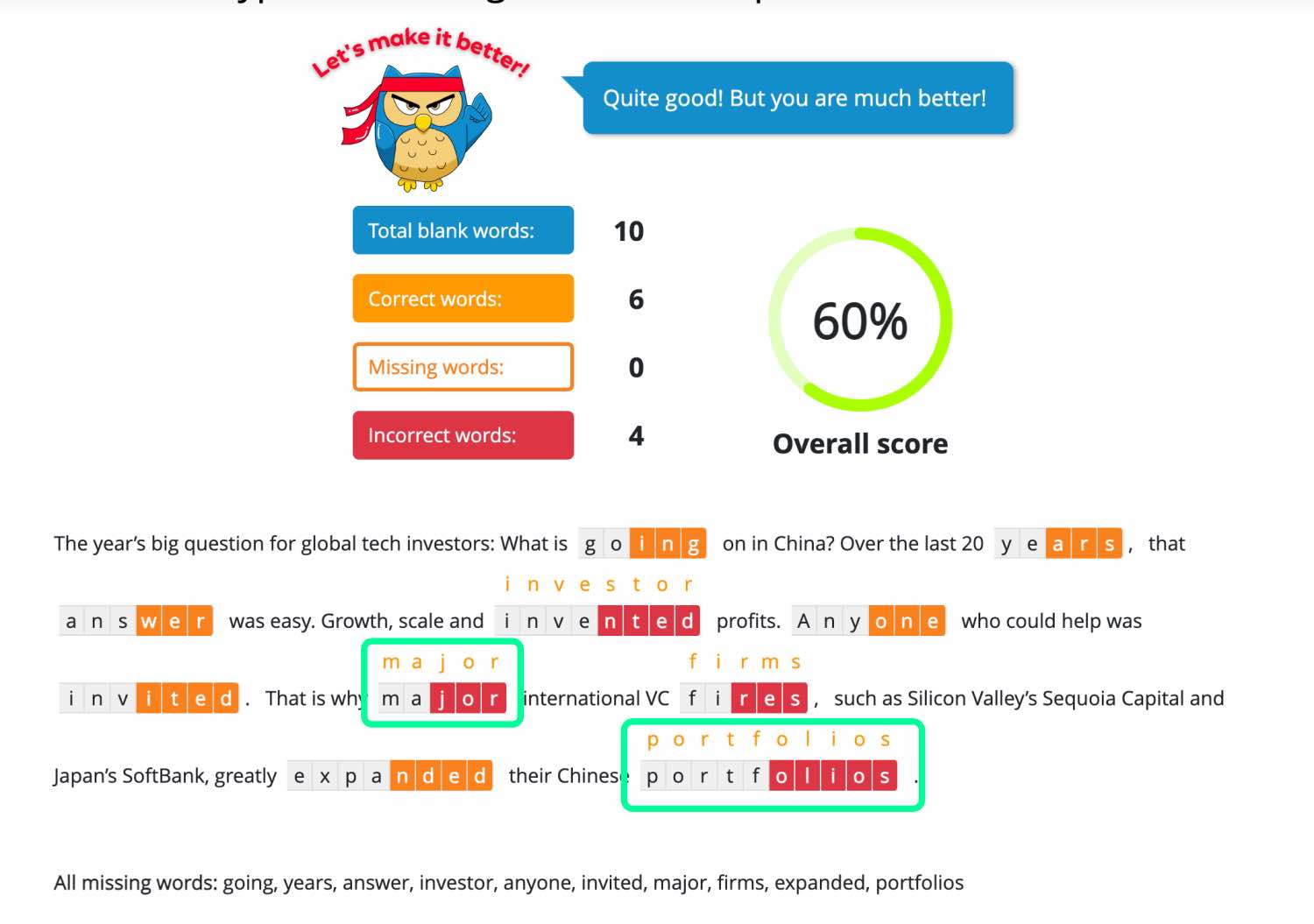 Our test takers come from all over the world in Vietnam, India, China, Taiwan, Korea, Thailand, Brazil, Peru, Bangladesh, the US, etc. Most of us have our mother tongue different from English, so we sometimes unintentionally use our mother tongue as an input language, which causes such a problem.
8. Something wrong with Lexical Sophistication
Just a few test-takers see the following image when they check Lexical Sophistication feedback. If you have also experienced it, kindly follow our suggestions to solve this problem.
Stop all extensions or apps: If you are using some extensions or apps to support your study and work, we strongly suggest you stop them all temporarily. Because extensions or apps may affect our technology in identifying your English mistakes; besides, when you take the real test, you will definitely need close all extensions or apps.
Open your browser fully: When you practice on the DET Practice Platform, you need to open your browser fully to prevent unnecessary issues.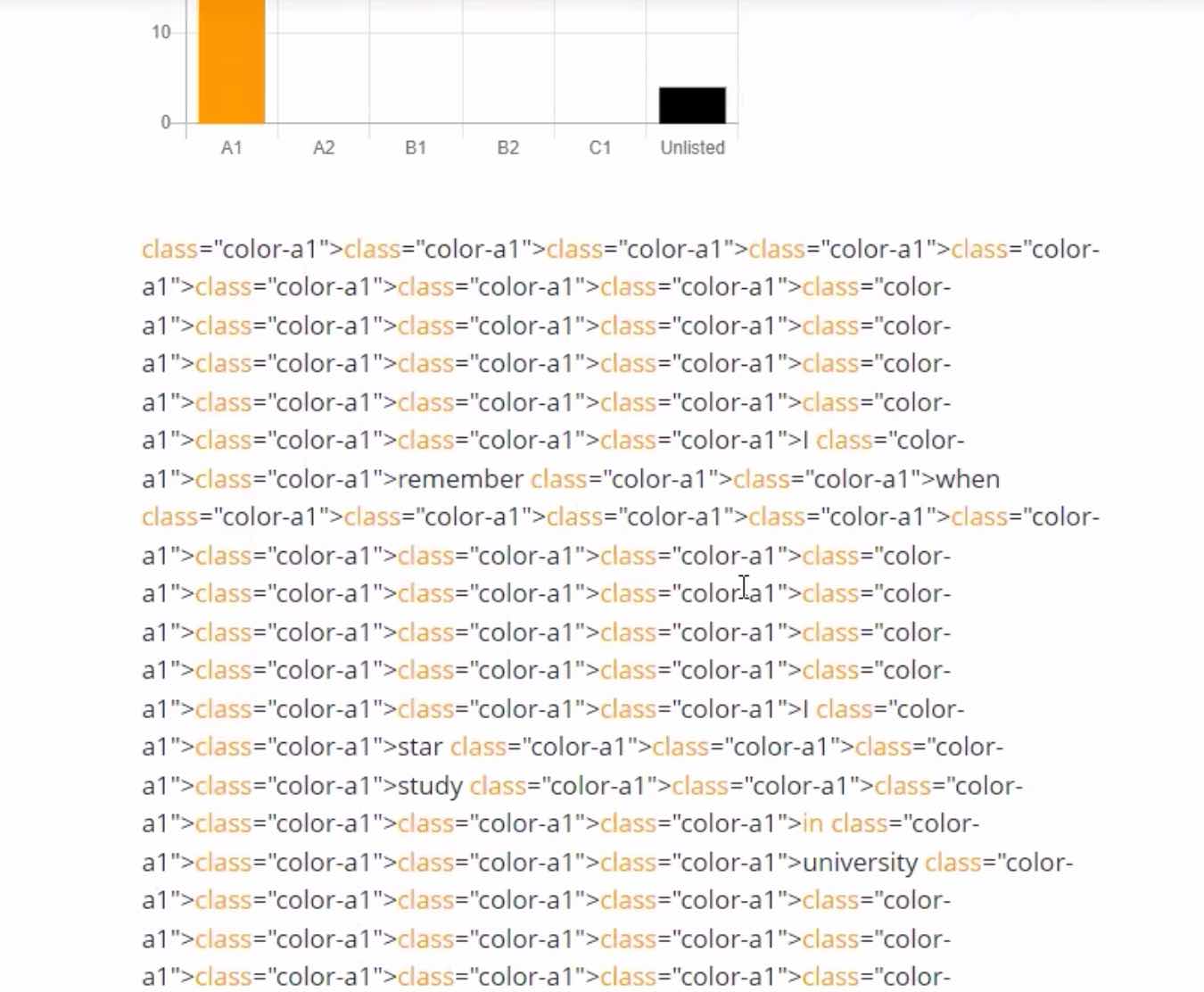 9. I only get 50% overall scores in Speaking questions
If users pause too many times, or their pauses are too long than necessary, this issue may occur even if users utilise all 90 seconds to speak because their actual speaking time is lower than 30 seconds. The actual speaking time means the total amount of time that we speak, which doesn't include dead time, such as pauses and meaningless words (um, ah, etc.).
In the Duolingo English Test, they require test-takers to speak for at least 30 seconds in all Speaking question types. Therefore, we set this up to inform test-takers that their speeches still need to be improved, which means test-takers need to put more time into practicing for their desired scores.
This is an example of one of our Premium users. Please kindly take a look for a better understanding. If users see the following feedback, it's time to improve our general English skills, especially our Speaking ability to deliver a smoother speech.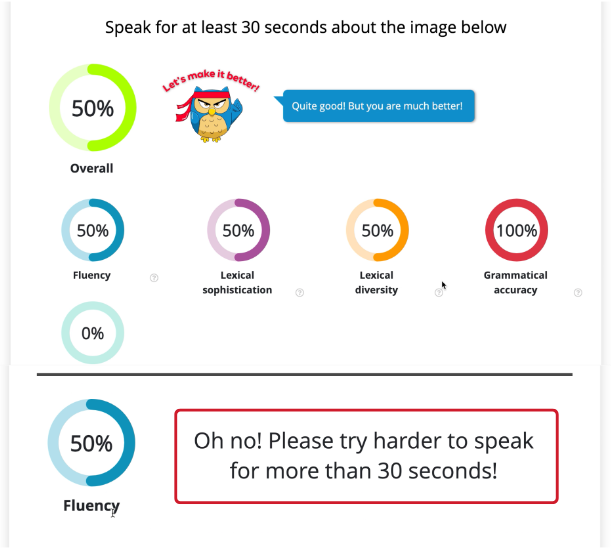 Nonetheless, if users believe there are other reasons causing this issue. Please send us your video recording to support@detpractice-tadehub.com, and we will check it carefully and share 15 FREE Premium days in 02 working days after our confirmation.
--
If you experience other problems, feel free to contact us any time. Simply click the Phone button in the bottom right-hand corner and choose your favorite platform for communication.
We truly appreciate your feedback; every thought is valuable to building a better Practice Platform for you and other test-takers. If you haven't experienced your DET Practice Platform yet, create your FREE account and boost your skills today!