We have shared the top 15 common Writing topics that students will likely see in a Duolingo English Test writing question, including Read then Write and Writing Sample. Let's explore the top 15 common Speaking topics today.
The DET has four (04) sub-scores, including Literacy, Comprehension, Conversation, and Production; they are all built around four (04) English skills (Speaking, Listening, Reading, and Writing). Listening and Reading are the steps for learners to collect information, while Writing and Speaking are the steps to conduct information. As a result, Speaking and Writing are more difficult than the other two skills, which are proven by certified scores of countless DET takers that their Conversation and Production, most of the time, are lower than Literacy and Comprehension.
One of the great ways to prepare for the Duolingo English Test is to know common Speaking topics that will likely appear in the real tests. It's much easier and more effective to focus on these topics first, and if the real question is not on the list, students still have experience in developing ideas.
We will share common topics, sample questions, and answers so that test-takers can learn some ideas to answer a specific question.
1. Art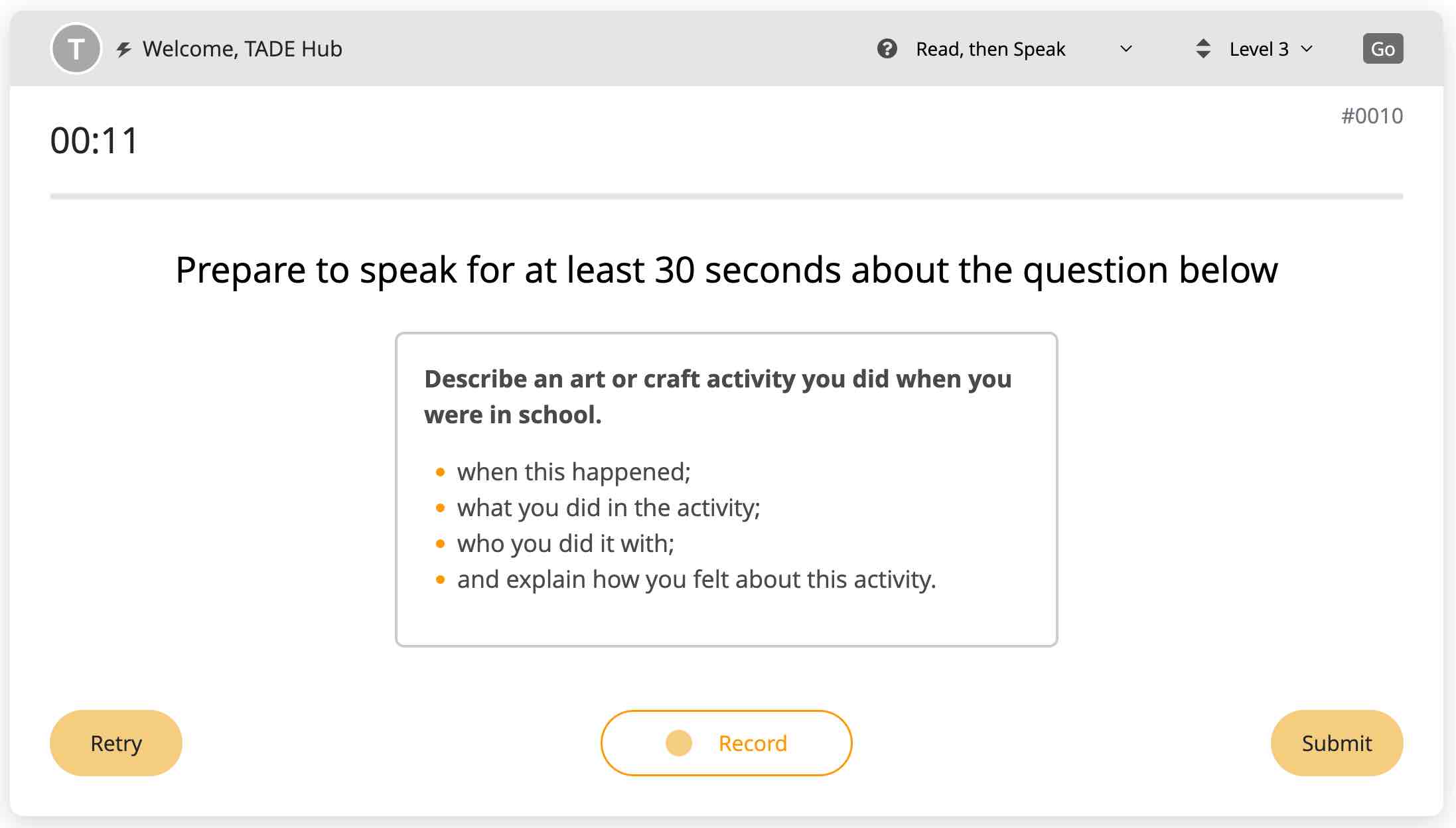 Question: Describe an art or craft activity you did when you were in school.
Sample answer:
I did an art activity at school, and it was the Yearly Music Competition for my high school buddies to participate in. If my memory serves me right, our competition happened at the end of each Western year to celebrate our achievements in an academic semester. It was extremely funny and inviting, I would say.
In detail, every class had to practice at least one music performance, such as singing, dancing, or playing any musical instrument, in order to perform on the stage in front of hundreds of students and teachers at school. In my last year at high school, we made up our mind to offer a group dancing type, which, I would say, was the best time we ever had.
If I'm not mistaken, five of my classmates stepped out of their comfort zones to dance with me. We devoted dozens of hours to improving our performance with support from a professional choreographer whom we hired. From the bottom of my heart, it was extraordinarily remarkable as every single one of us fought so brave until the end.
After weeks of preparing and enhancing on a daily basis, we finished in the first place and won our first prize from school. Everyone was astonished and over the moon for months later. Nevertheless, the journey that we went through offered so many more values and benefits for the whole team. It was a lifetime memory that I'll probably never find anywhere else.
2. Business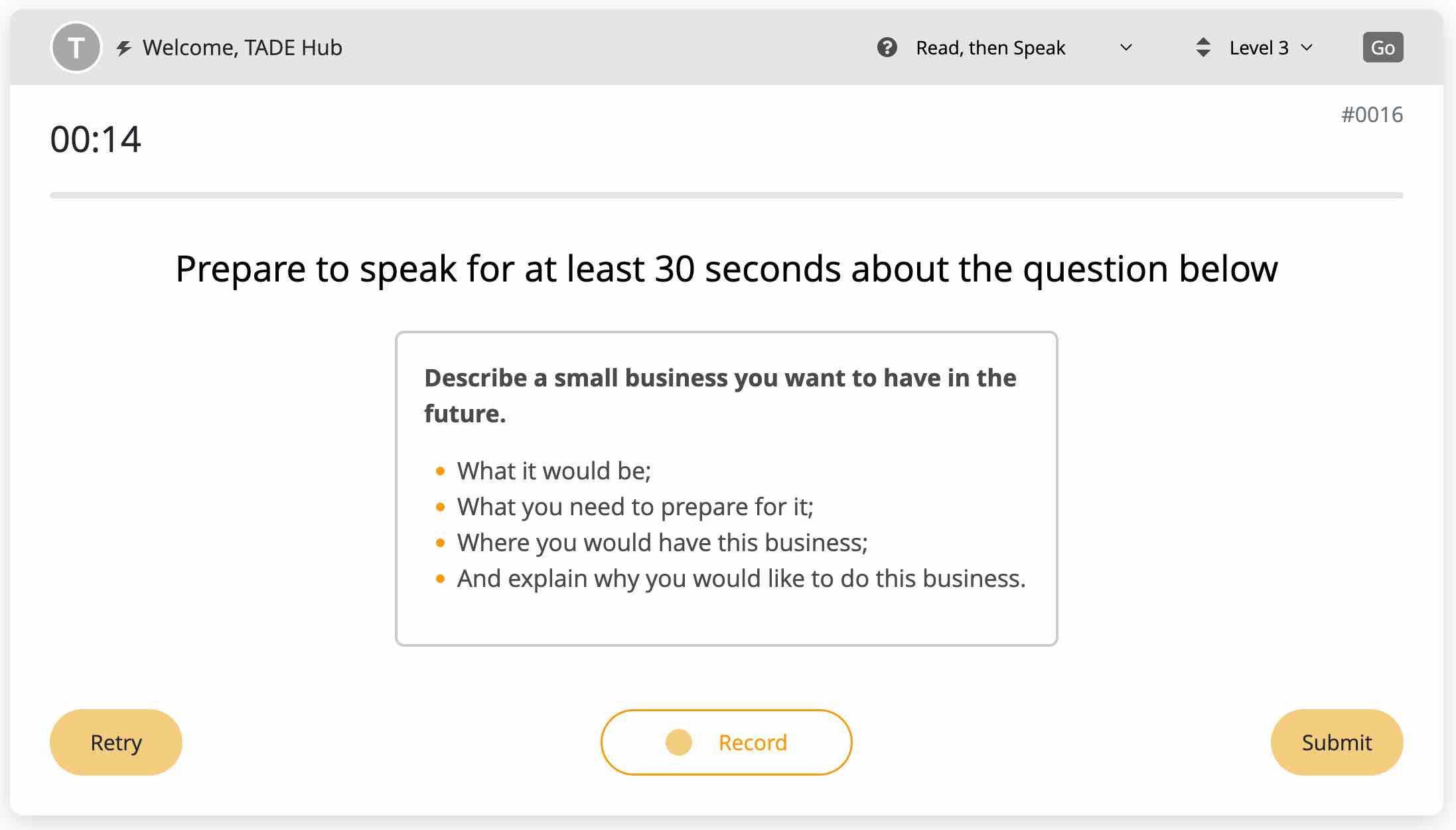 Question: Describe a small business you want to have in the future.
Sample answer:
Most people want to own a business for themselves sometimes in life. I am not different. My dream is to own a speakeasy bar that sells drinks for people. I will be there to listen to all kinds of stories from people.
However, opening a cocktail bar is not easy. There are numerous things I have to prepare. To begin, finding a proper location is no easy task. There is countless paperwork waiting to be completed. What comes next is the staff; I need skilled and charismatic bartenders, which are quite rare. To top it all up, there is the menu, which is nearly endless.
As mentioned above, finding a place for my bar is not easy. In order to have a stable flow of customers, I will put it around the downtown area. Furthermore, I will find a place where there is a mix between locals and foreigners to gain more diversity in culture as well as atmosphere.
This business has always been my biggest dream since I was a child. Alcohol is harmful if consumed irresponsibly; nevertheless, mixology is an art that not many people acknowledge. Additionally, owning a bar can get me closer to the stories of everyone. Through them, I look at the world around me through different eyes.
3. Childhood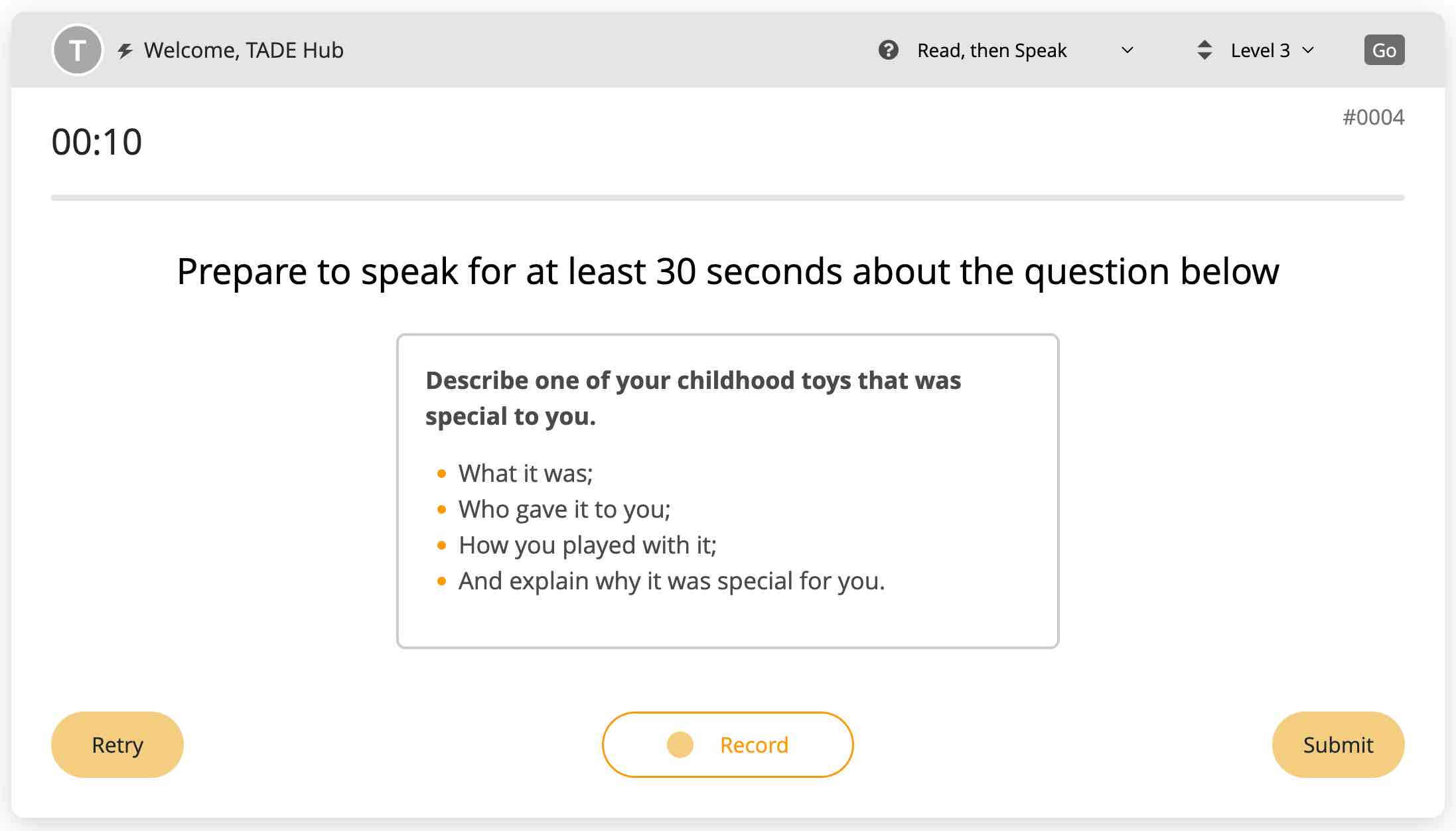 Question: Describe one of your childhood toys that was special to you.
Sample answer:
When I was a child, my family was not financially well-off. As a result, I did not have so many childhood toys except one that I still remember until now. It was a machining white plane to carry passengers. Not to exaggerate, it was everything to me back in the day, and I still keep in mind the best feeling I have ever had in early childhood.
I have one uncle who is currently living in the US. He rarely makes his way back to our country due to his heavy workload. However, when I was around six years old, he took a machining white plane to me as a gift for my birthday from the US. It was unbelievable.
As far as I can tell, whenever I had spare time, I played with the plane. It was a machining one running on two batteries, so I only needed to turn it on, and it automatically ran on its own, which was magnificent.
It was one of the most memorable childhood toys for two major reasons. First and foremost, it was on my birthday, and I had wished for a plane for years. Furthermore, I have great respect for my uncle in the US, so it was heart-touching when he gave it to me in person.
4. Family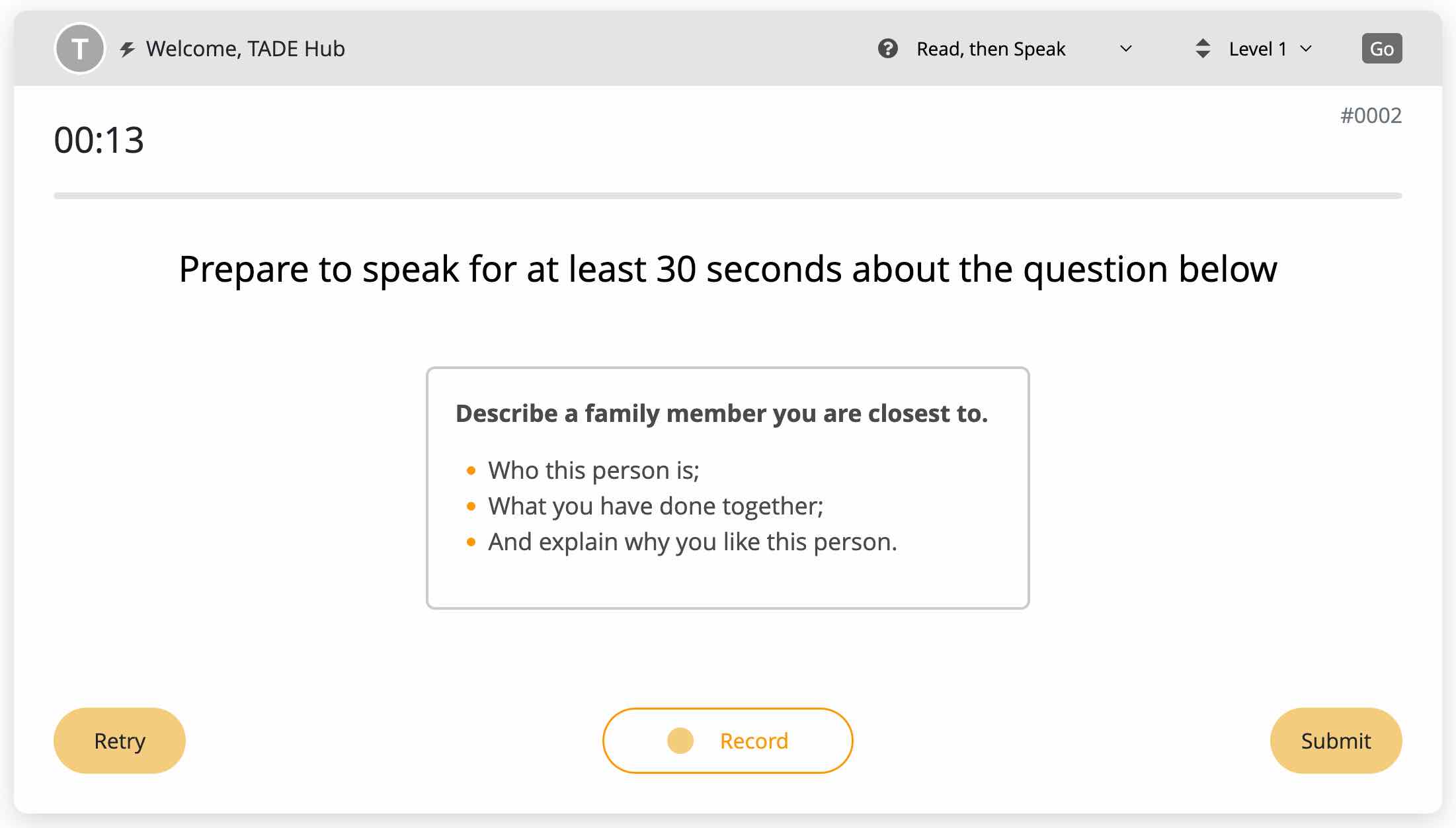 Question: Describe a family member you are closest to.
Sample answer:
I never take it for granted to have such a supportive and caring family who are always there for me when I need them. We have four members at home that's always full of laughter, including my parents, my younger brother, and me. Even though I love them all to the moon and back, my father, Jake, is the one that's closest to me.
Since I was a little boy, my father usually took me to a park nearby and enjoyed the atmosphere. We frequently hired bicycles and rode around the park in the early morning on weekends cause my father was free, and I did not go to school. By the time I grow older, it is hard for us to keep our past habits. However, my father and I decided to play chess, which was also challenging and entertaining at the same time.
I love my father more than anyone else because I acknowledge how hard he has tried to provide us with what we need. Moreover, we were not born financially well-off, so it was extremely tough to make ends meet when I was younger. I mean that life was tough back in the day, but we never gave up. My father never gave up. As a result, my time has come; I am completely aware of what is waiting for me out there. It will not be easy, and I will never give up, as my father taught me.
5. Friends
Question: Describe an old friend you enjoy talking with.
Sample answer:
I have opportunities and privileges to meet dozens of friends who are incredibly talented, compassionate, and open-minded. Everybody knows how precious it is to have such a gift, and I know better not take that for granted. That is why I am much into keeping in touch with people I've become close with, one of whom is my current friend – Tony.
Admittedly, we just have an ordinary relationship as others since we haven't spent much time sharing. If I'm not mistaken, I first met Tony back at the end of March 2021 at my English community offline event. He got to know us and made up his mind to pay a visit. At the end of our event, he shared his feedback, which made my day and motivated my team to work harder.
Later on, we usually set up appointments to have dinner, so we have more time to share what we have been through and what we are up to, mostly about our profession and future career. Simply put, Tony's speeches are always wise and sharp, which are extremely helpful for me.
As I have mentioned earlier, Tony is undoubtedly an extraordinary man with years of experience in Artificial Intelligence, management roles, and professional skills such as Public Speaking. Therefore, I repeatedly want to talk to him on a monthly basis to listen to his stories, as I know for certain that I will learn a lot from these stories.
6. Future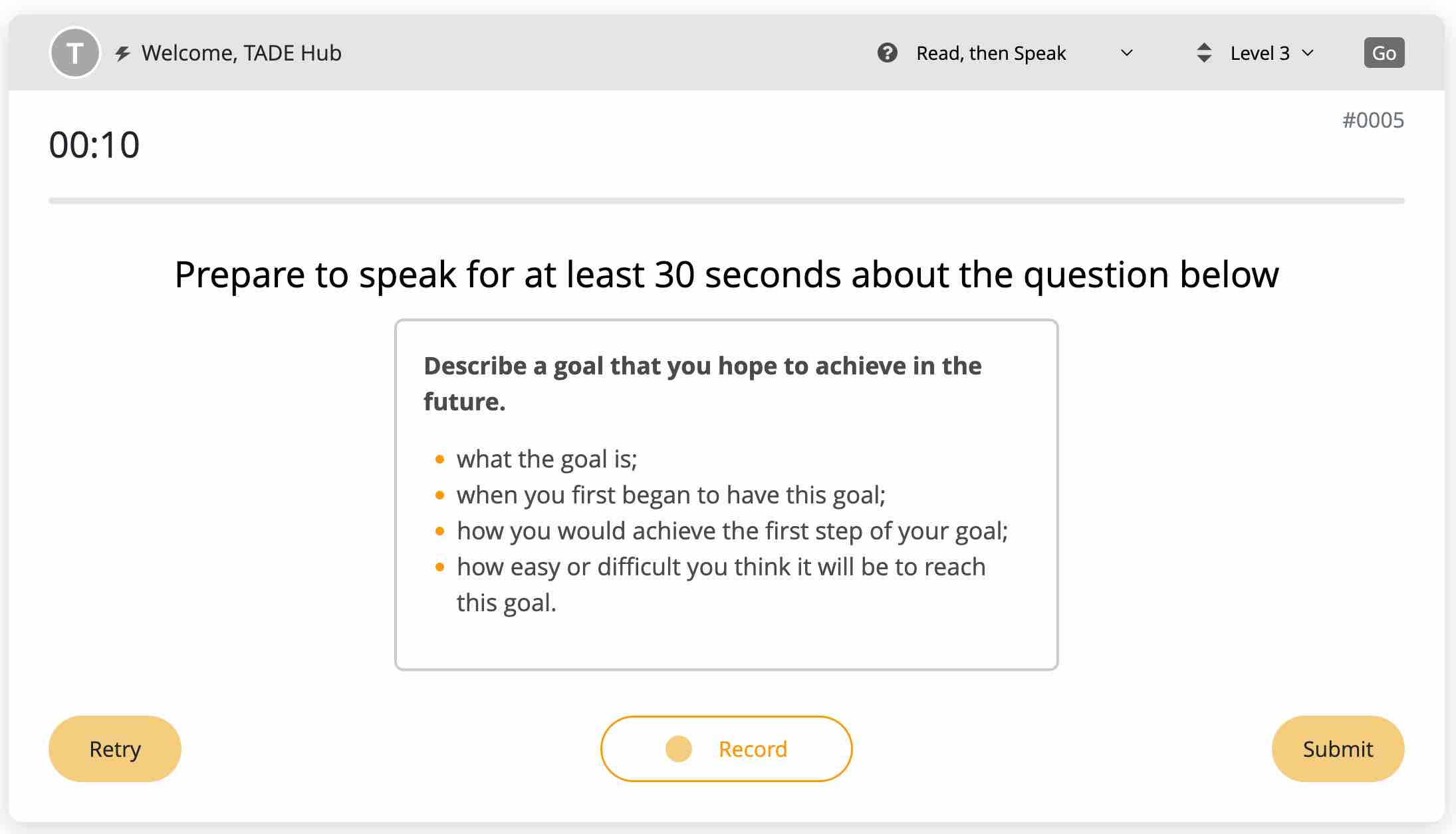 Question: Describe a goal that you hope to achieve in the future.
Sample answer:
Personally, I have planned to study abroad in the US to widen opportunities for a future professional career. One of the first requirements is to prove my English proficiency. Therefore, I have set my heart on achieving at least 120 points in the Duolingo English Test or DET in order to pass the admission process in the next three months.
My ambition to study in the US started when I was in primary school, so I try hard to enhance my English skills on a daily basis to achieve at least 7 Band in the IELTS to pass the admission process. However, when DET came to my attention, I made up my mind to change to take DET immediately just a week ago.
I acknowledge the advantages of DET compared to other proficiency tests. Nonetheless, it is completely new to me, so the first step of my goal is to understand all the question types and how I can take it following all the rules in the first week.
I wholly believe I am able to get 120 scores because it is equivalent to 7 Band in the IELTS. In detail, I had actually taken a mock IELTS before, and I got a 7.5 Band. Hence, it is just a matter of being confident while taking the test; I will probably get what I want.
7. Government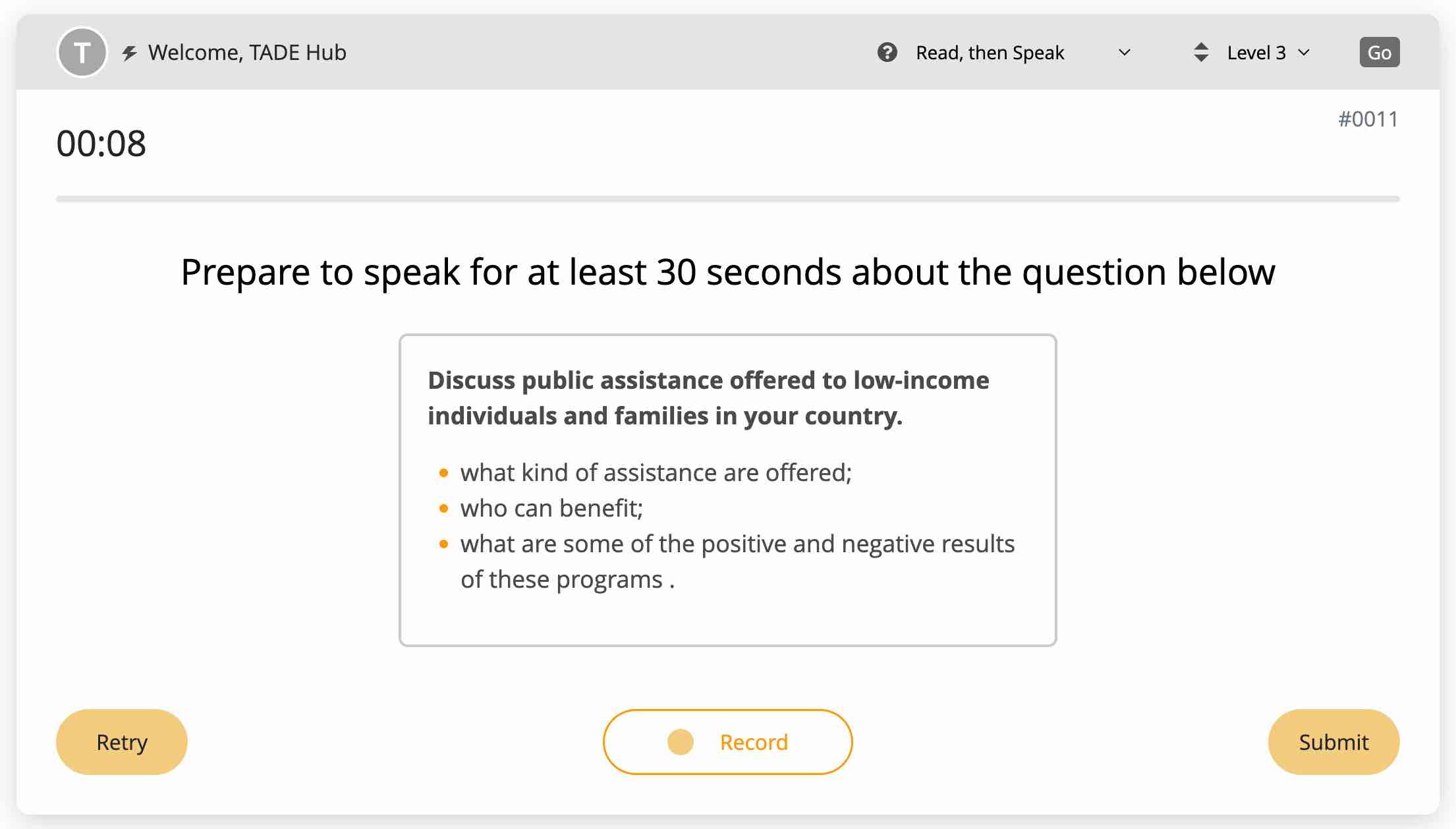 Question: Discuss public assistance offered to low-income individuals and families in your country.
Sample answer:
In my lovely country, most people suffer from COVID-19, especially those low-income individuals and families all over the nation. Hence, the government offers two public assistance to help residents cope with the pandemic. First and foremost, there is a financial budget for people who have lost their profession due to COVID-19. They will be receiving an amount of support money on a monthly basis until the pandemic is under control. Furthermore, residents who got affected by COVID-19 receive free treatments from the Health Ministry, including drugs and medical facilities in hospitals if their health is severely serious.
My country is still developing; thus, there is a sea of unfortunate and underprivileged individuals who need support from their government more than anyone else. So, those people can benefit most from public assistance. However, the government also benefits itself because they support their citizens, who will be contributing to the whole country in the years to come.
Regarding positive results, public assistance has made a huge impact on people's lives, especially low-income individuals and families; they have undergone the pandemic for a long time. Contrastingly, there are some negative aspects, and the most detectable one is that some sets of people take advantage of it to benefit themselves. Hence, I utterly suggest that the government should have proper plans to control and manage the quality of their assistance, so they can advance its merits and prevent its demerits.
8. Hobby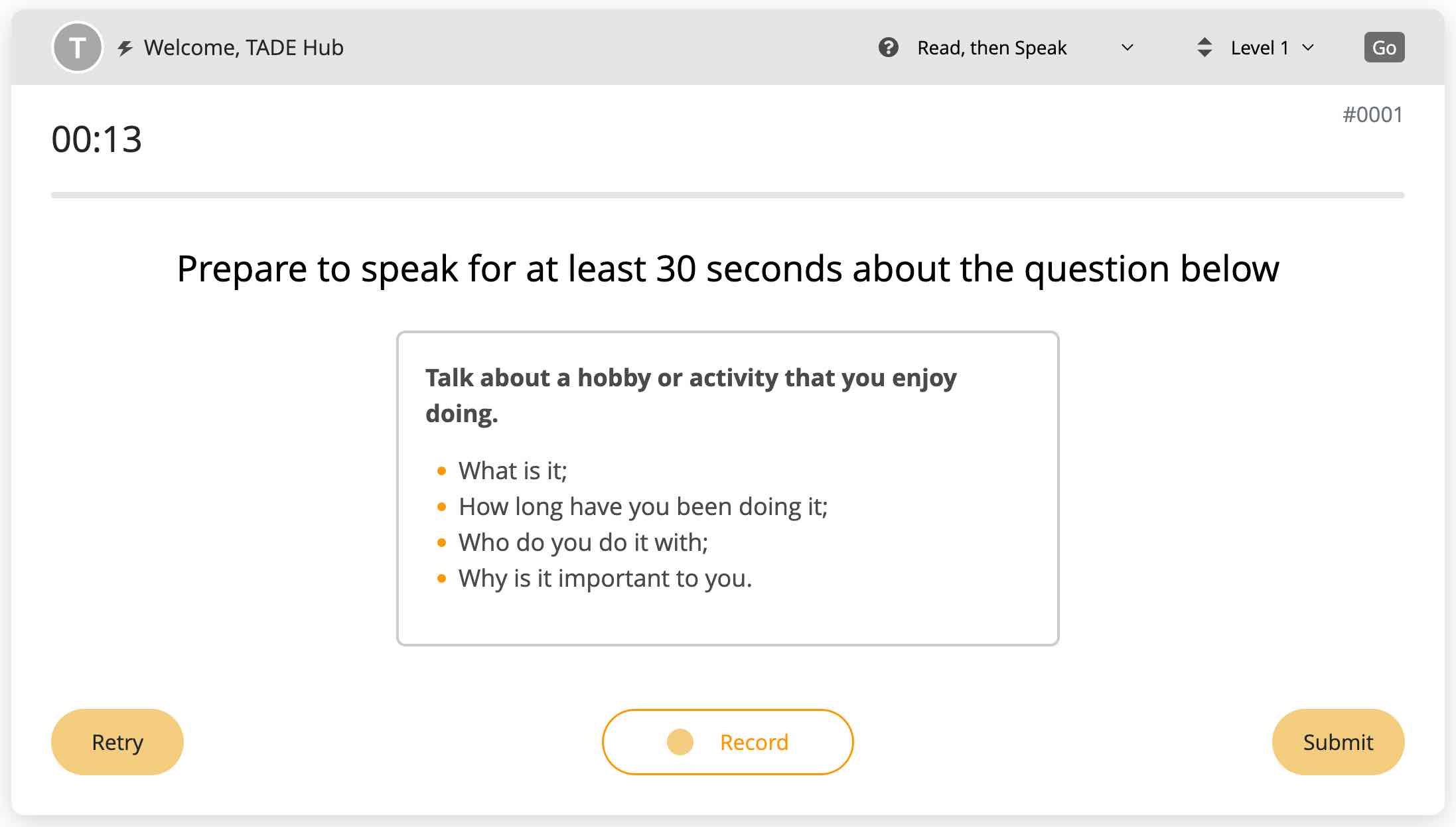 Question: Talk about a hobby or activity that you enjoy doing.
Sample answer:
I enjoy doing a bunch of hobbies and activities on a daily basis, and most of them are pretty good. I love running the most among my daily activities because it helps me stay in shape and maintain my physical health to cope with stress and challenges at work.
I initially started running around three years ago, at which I joined an international enterprise as a Business Development Executive. As my job was challenging and stressful, I needed to keep working out on a regular basis to help my mind stay sharp and fresh. That was the reason why I am still doing it nowadays, thanks to the benefits and values it offers.
I more often than not run alone in an amusement park nearby, but other times that I enjoy running with my girlfriend, who has been the love of my life for the last five years. If we run together, we frequently set up a competition to see who will get to the finish line first. Whoever wins the game can choose any cuisine on weekends.
The most optimistic aspect we receive is the feeling of accomplishment in our everyday lives, which helps enhance our confidence to face all unforeseen hiccups head-on at work. Furthermore, it is one of the best activities to ease our pain and help us stay positive.
9. Language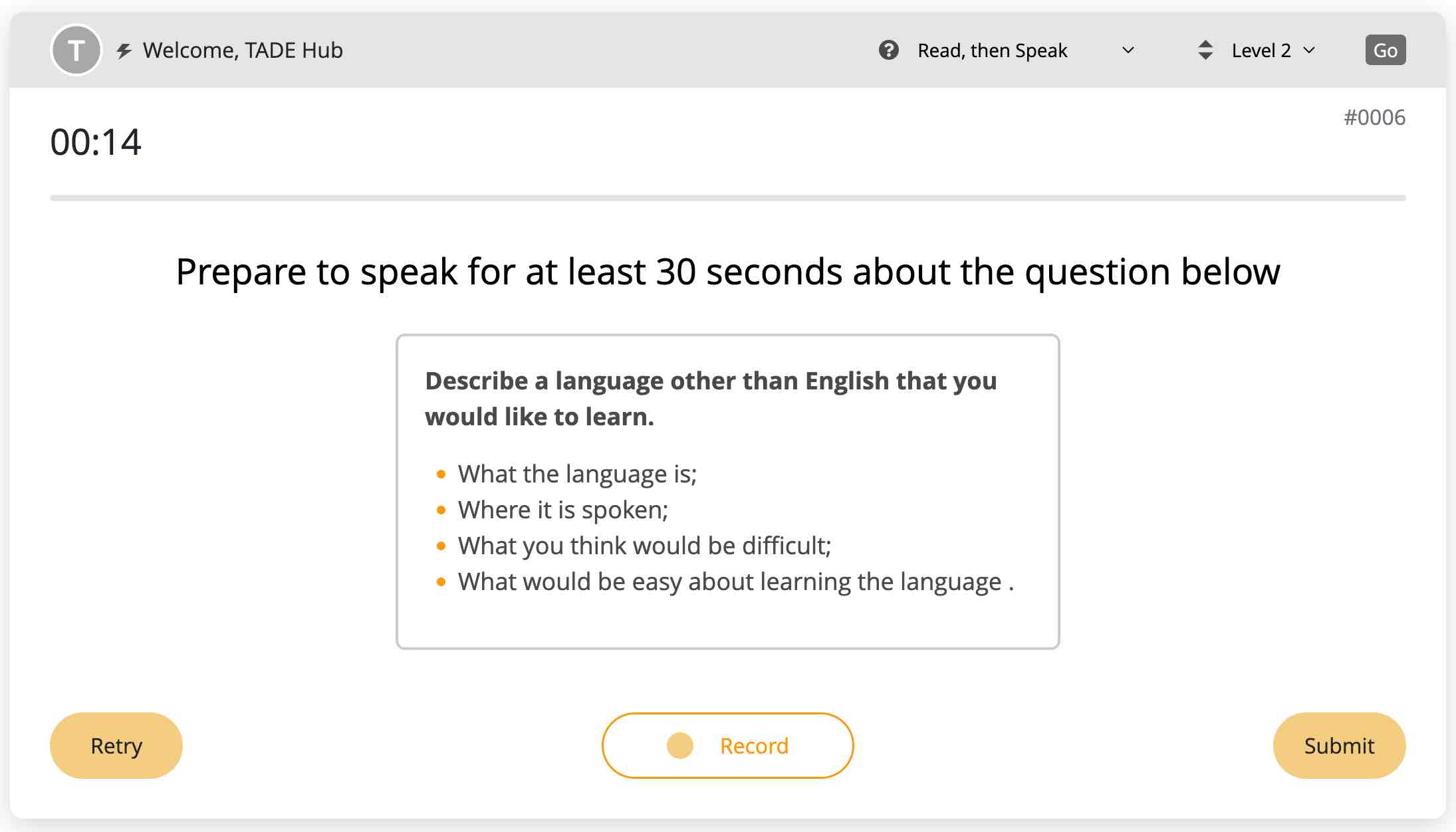 Question: Describe a language other than English that you would like to learn.
Sample answer:
In developing countries, commonly spoken languages are the key to opening a bunch of great opportunities in the future. Additionally, being a multilingual citizen expands your knowledge through online learning, and it also provides you easy access to the understanding of other cultures. Therefore, besides English, Chinese sits high on my must-learn list due to its wide application and long history of culture.
Needless to say, Chinese is the second most spoken language in the world because we can see Chinese residents in every corner, from developed to developing nations such as the US, the UK, Singapore, Thailand, and so on, with over 1.3 billion Chinese speakers on the planet.
Nevertheless, the most difficult part of learning Chinese is Pinyin. It is a well-known fact that there is no such thing as the Chinese alphabet but Pinyin. Hence, it is a common challenge for people who have a mother tongue building based on alphabet letters. I have spent hours studying Pinyin, and I soon realized that it was in over my head. However, I'll keep working hard to speak it fluently as I, all of the people, know how valuable it is.
Writing is the most challenging skill, but speaking is a piece of cake, I would say. Like other languages, learning to speak basic conversations is easy, which helps build my foundation to cope with more daunting tasks. Besides, it will also boost your confidence to converse more fluently with others, which is a key to enhancing your writing.
10. Movie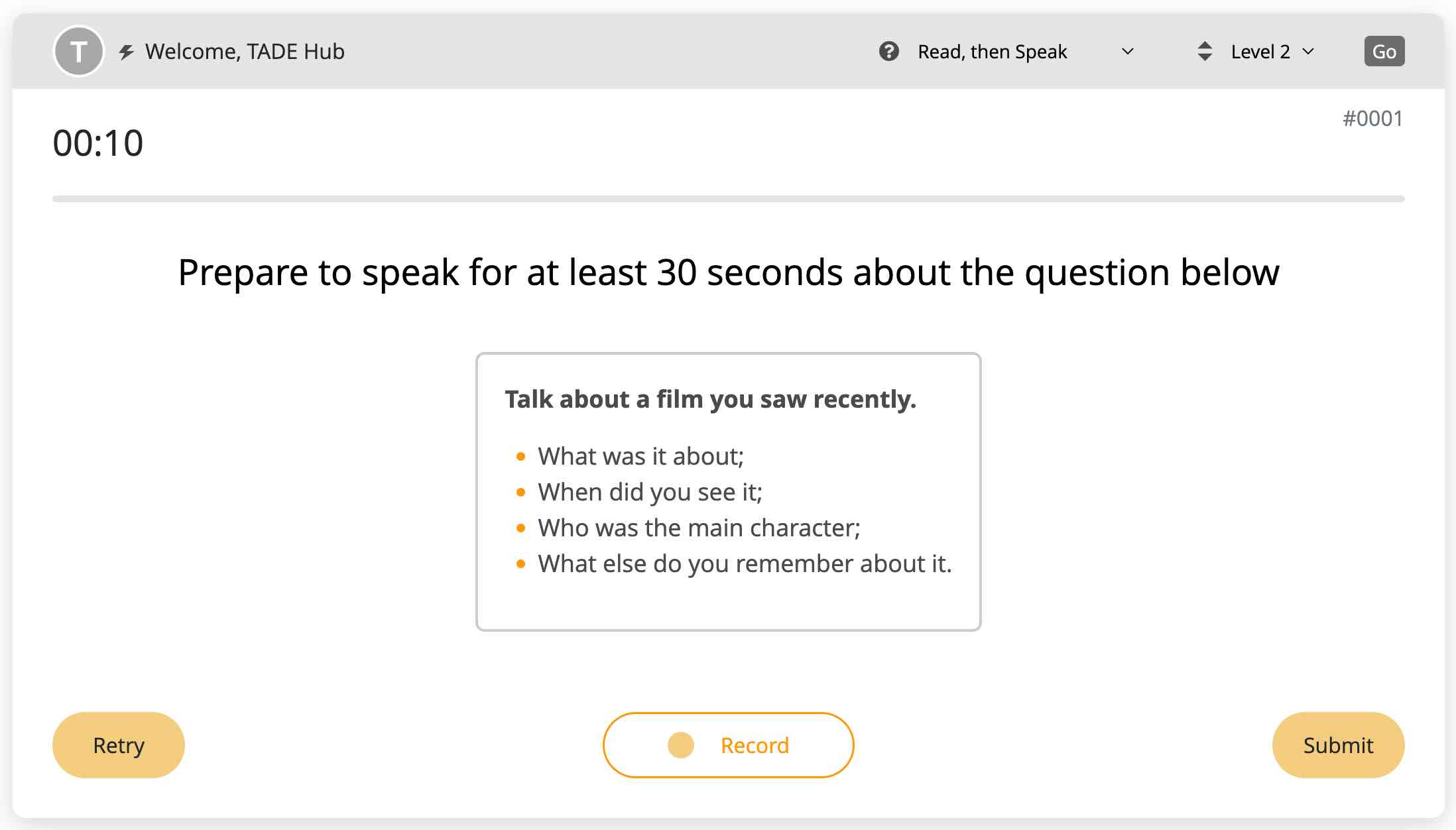 Question: Talk about a film you saw recently.
Sample answer:
The action movie is my favorite genre among millions of others, so I paid a visit to a local movie theater to see a movie that I had been waiting for so long, which was Spider-man: No Way Home. It was a story of Peter Parker, aka Spider-man, trying to solve a problem, which hit him so hard from the prequel movie.
If my memory serves me right, I went to the theater at the end of November 2021 with my girlfriend. She actually does not like movies much; however, I told her that Spider-man: No Way Home was one of the best movies in 2021. Unexpectedly, it turned out to be more than we expected because it achieved over one billion dollars worldwide.
As I mentioned earlier, the main character was Peter Parker, who was at that time a high school student. In that universe, he was also Spider-man, a superhero fighting lots of bad guys. In the movie, he and his besties fought a bunch of super-strong villains from the multi-universe.
Long story short, Spider-man: No Way Home was an extraordinarily remarkable masterpiece, included dozens of breathtaking action scenes and a touching storyline. The movie had taught me so much about friendship, love, and sacrifice, which was why I was on the edge of my seat the whole time.
11. School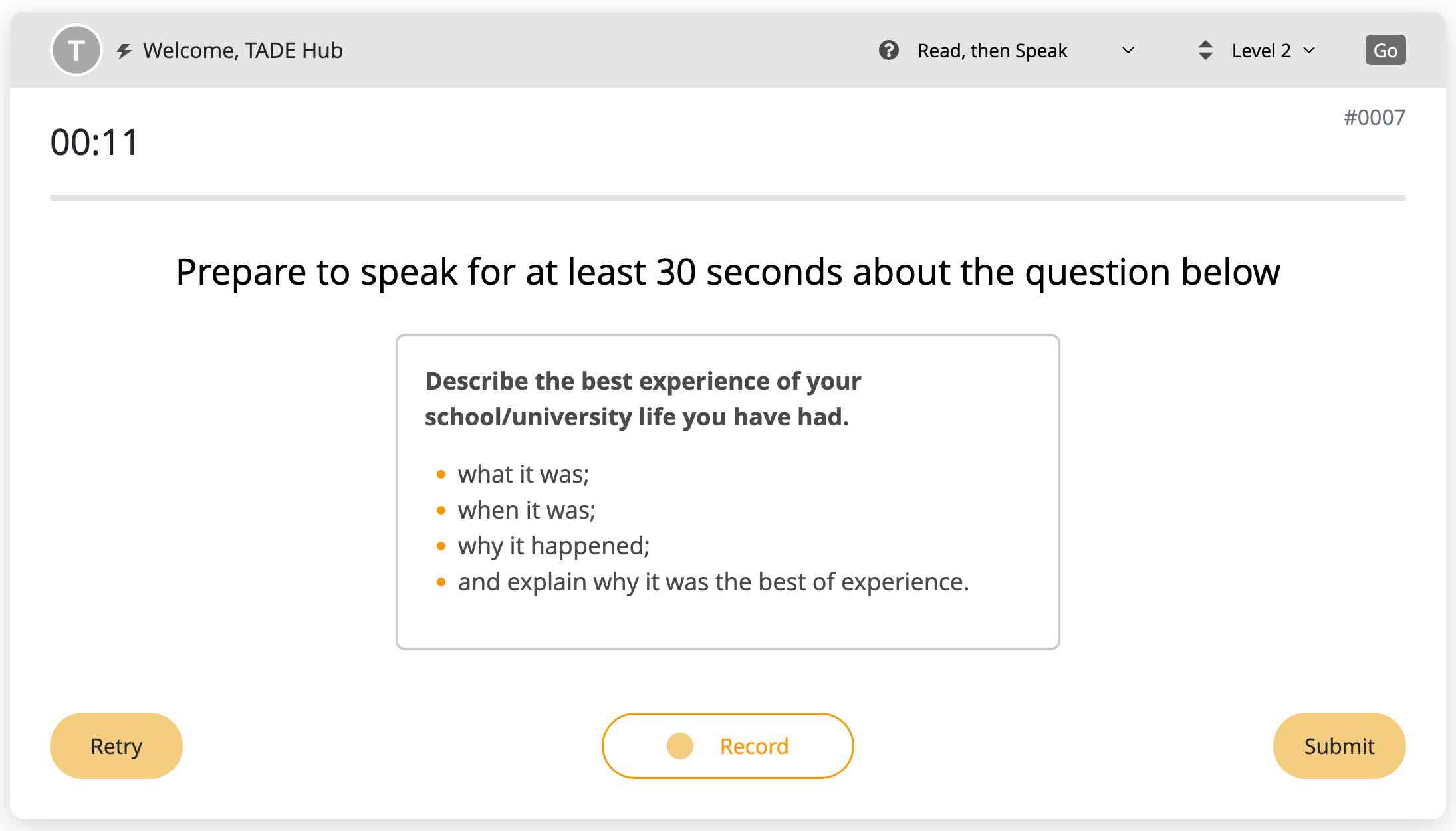 Question: Describe the best experience of your school/ university life you have had.
Sample answer:
Only one thing pops up in my mind immediately when we speak of the best experience of my university life. It was the time when I competed in a Public Speaking Contest, and I stood on a big stage in front of over five hundred students to deliver one of the best speeches I've ever given with support from my friends.
Had it never crossed my mind, I would be on the stage talking about the thing I was most passionate about one day. If I'm not mistaken, It was almost eight years ago when I was a sophomore at the University of Science. During that period, I took six subjects at the same time, which was quite tough for me to finish first place in the competition.
Nonetheless, I took part in the contest in order to step out of my comfort zone to face my fear. Because I once heard that the best way to overcome your fear is to face it. Therefore, I joined the competition to enhance my Public Speaking, so I'd be able to do it more often in the years to come.
Even though I won nothing at all, the experience I had was priceless. In detail, I devoted over four hours per day for two weeks consecutively to writing down content and practicing on a daily basis in an attempt to master my speech. Trying so hard to conquer my fear was the reason why it was the best experience.
12. Sport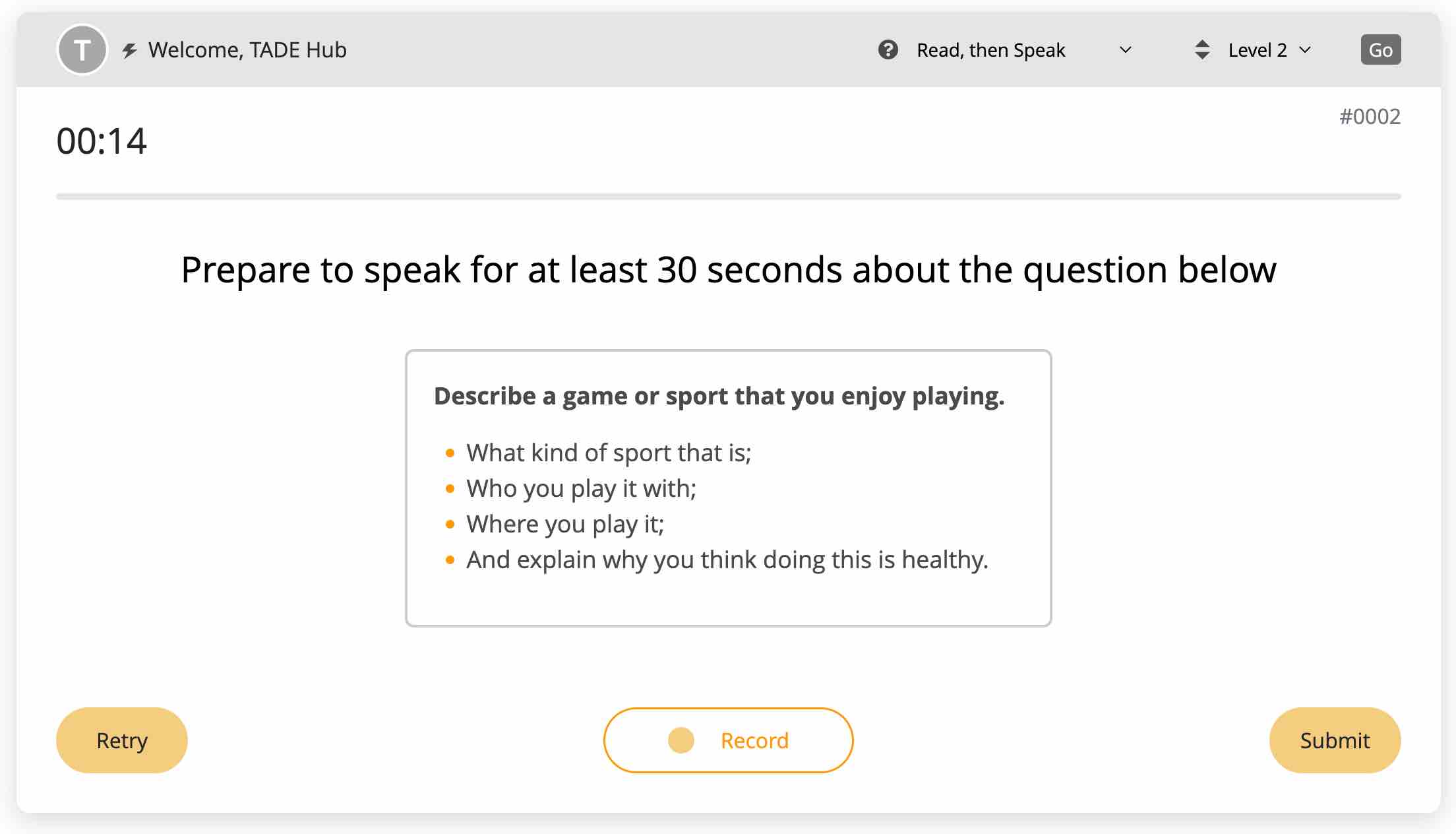 Question: Describe a game or sport that you enjoy playing.
Sample answer:
I'm not a great runner in any sense, but running is like my bestie. It is honestly refreshing and washes away every single negative thought I have whenever I immerse myself in an outside environment for running. No matter how tight my schedule may get, I usually pay at least one visit to a local park to work myself up.
I sometimes have a partner who has been my best friend since high school. We live in the same ward, so it's not too stressful if we have to set a schedule for our practice. Personally, I prefer running alone, but the values and benefits of running with our friends are not debatable.
There is a gigantic park nearby our home, and it takes us roughly 10 minutes to get there on foot, which provides the locals with huge spaces to work out such as gym equipment, yoga classes, outdoor medication training, and so on, which is really convenient for those who practice more than one activity.
A chemical substance named Endorphin is produced in our brain to ease pain and boost optimistic thoughts. Running not only helps us stay in shape, but it also improves our mental health. Besides , it is a beautiful time to meet my besties from school as we are too busy to see one another.
13. Technology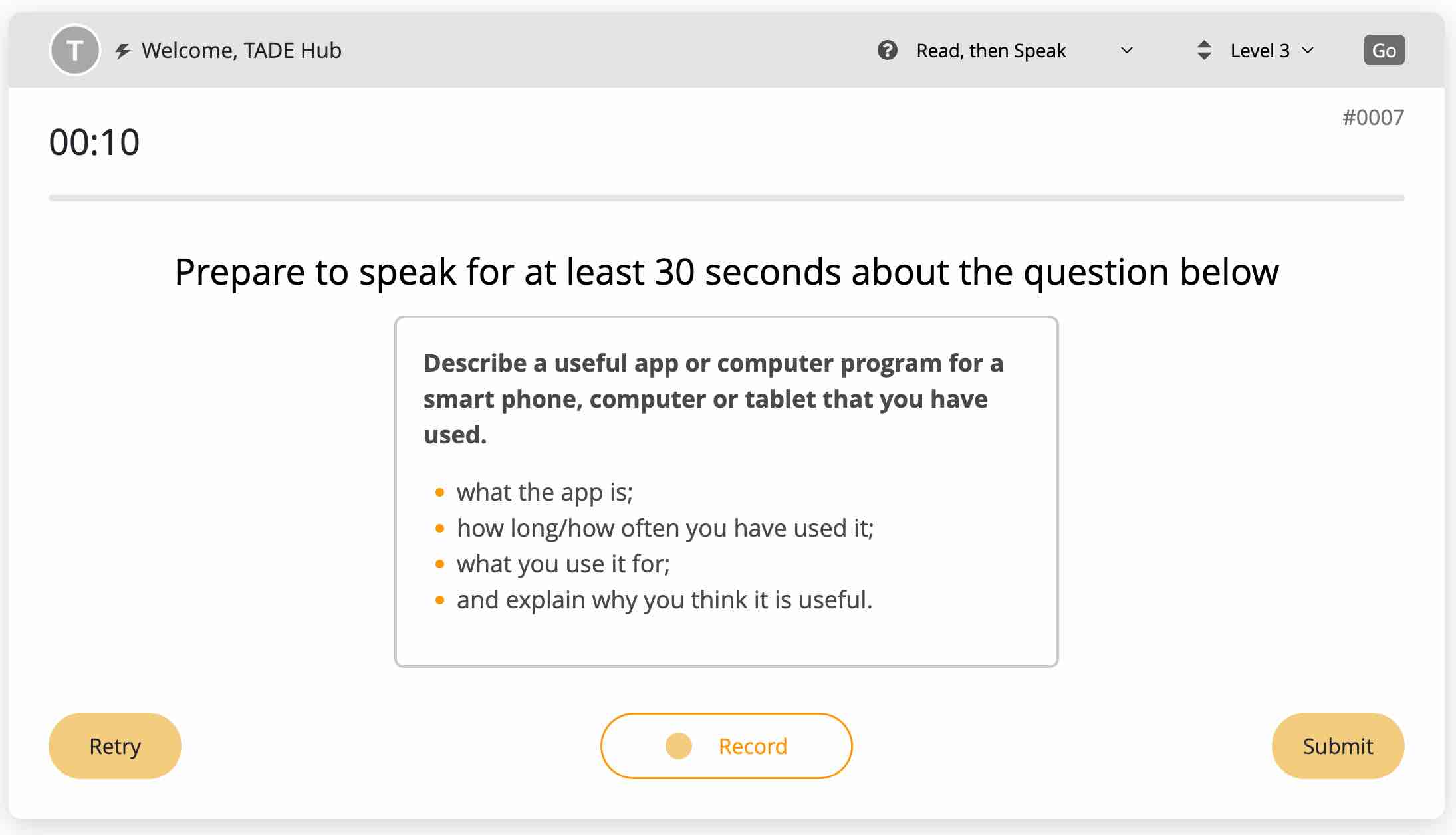 Question: Describe a useful app or computer program for a smart phone, computer or tablet that you have used.
Sample answer:
Technically, I'm not tech-savvy, but I find mobile apps useful to support my everyday life. There is a bunch of them that I am currently using, such as Duolingo, Meditation, Ted, Wunderlist, and of course, Oxford Dictionary. Among thosevaluable apps, I find Oxford Dictionary is my favorite one and the most helpful.
I cannot tell for certain how long I have used it. Perhaps, I started using Oxford Dictionary back in 2014 when I was a sophomore at university. As far as I can tell, Oxford Dictionary is truly beneficial to those who want to enhance their vocabulary bank and advance their Speaking skill. Therefore, I spend over two hours on a daily basis using it.
I utterly believe that its name tells us what it is used for. In detail, you can use it to look up new English words, idioms, collocations to widen your vocabulary. Besides, there are other functions such as the iSpeaker and iWriter to help you boost your speaking and writing simultaneously.
Apparently, it has helped me upgrade both my oral and nonverbal skills since my time as a student. For the last six years, I devoted my precious time to using it for my study, and it turned out to be the most efficient investment until now. Moreover, I am able to stand up in front of hundreds of individuals to deliver English speeches nowadays.
14. Travel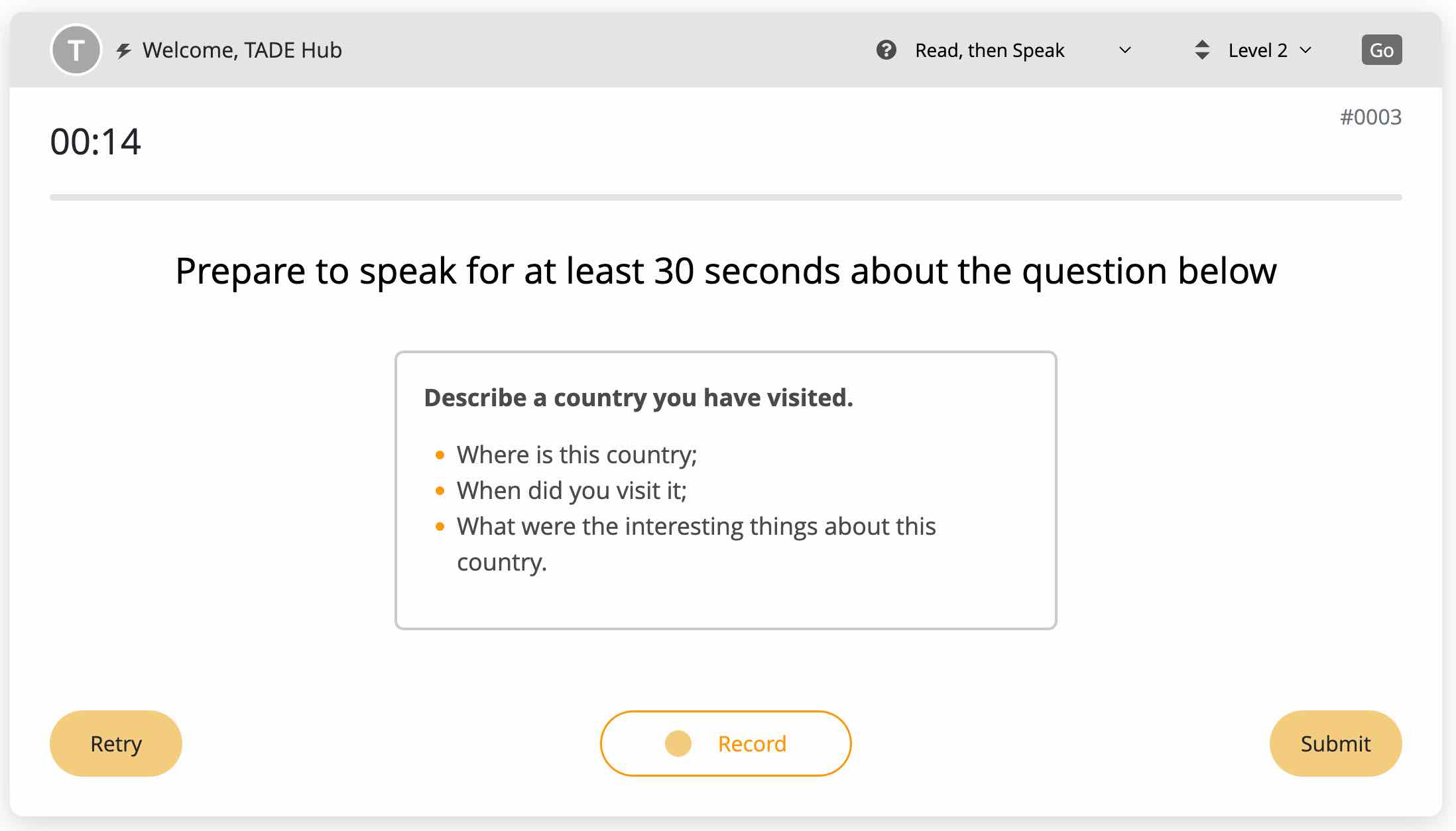 Question: Describe a country you have visited.
Sample answer:
As a matter of fact, the countries that I have visited so far can be counted on the fingers of one hand. Among those, Taiwan is the one that doubtlessly amazed me by many factors. Taiwan is located in East Asia, which shares maritime borders with China, Japan, and the Philippines. It takes roughly four to five hours from my country to Taiwan by plane.
I got my first opportunity to Taiwan back at the end of 2019, right before the COVID-19 emerged, which was absolutely lucky for me. At that time, I paid a visit to Taiwan alone for two crucial reasons. First and foremost, I have been in love with Taiwan since I was a little child through the words of my aunts because she got married and has a family there. Additionally, I would like to utilize that chance to visit my aunt as she has not been back to my country for years. Thus, I was honestly excited to see lots of things.
When it comes to interesting things about Taiwan, they were its people and weather. Regarding people, I was truly impressed by how friendly and supportive they were towards foreigners. It is strongly reminiscent of my own people that I see we have tons of things in common. Besides, the weather was really comfortable at 14 to 15 degrees, which was not too cold and too hot. When COVID-19 is under control and we are allowed to travel over the world, I'll probably go back to Taiwan soon.
15. Weather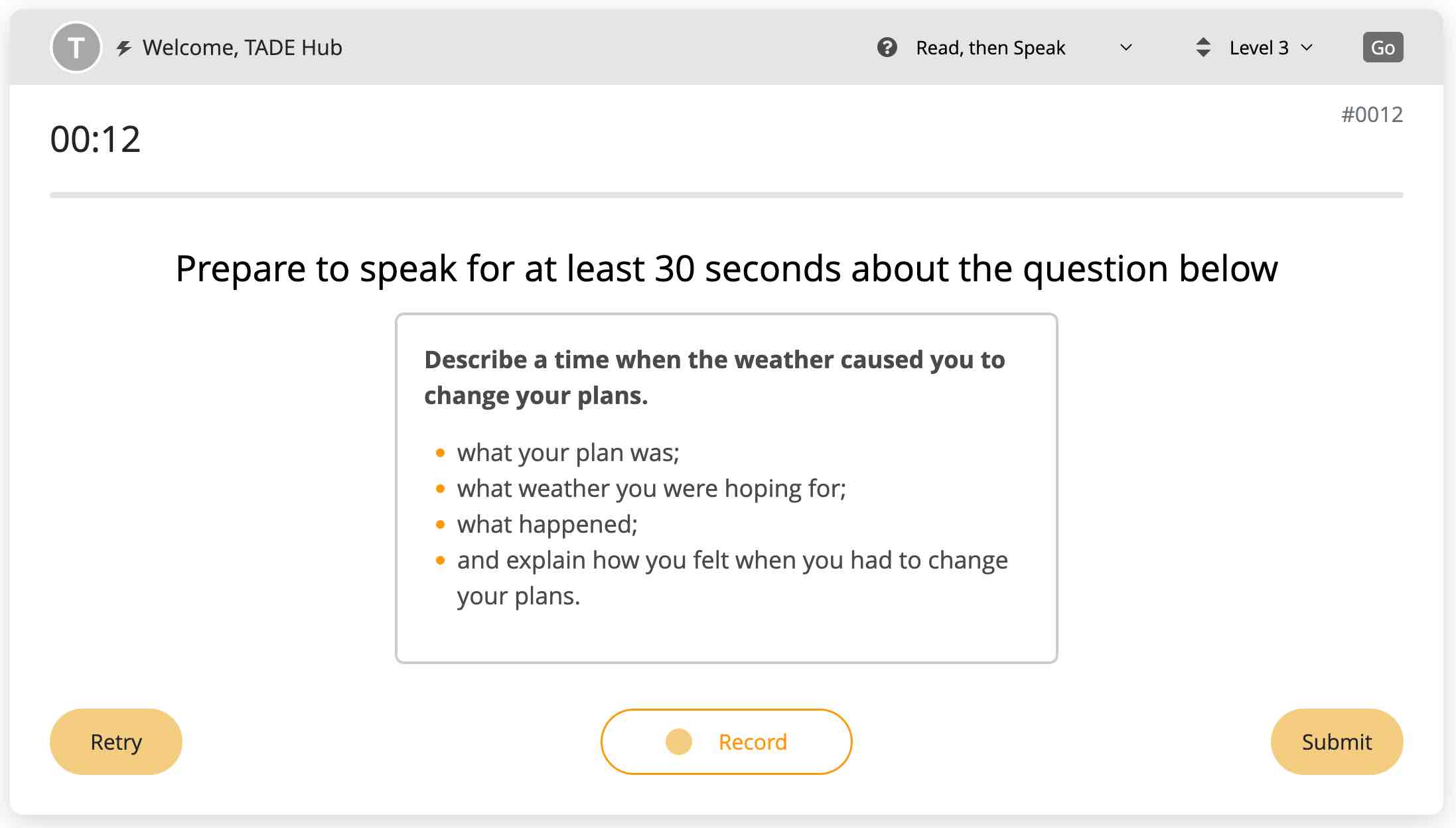 Question: Describe a time when the weather caused you to change your plans.
Sample answer:
There was a time when my girlfriend and I planned to visit Bali Island in Indonesia, but it got shattered due to terrible weather, so we had to delay it. Sadly, we did not know when we could go back to our trip because it was the only time that both of us were free.
In detail, we put the journey on our calendar for three months, so I followed the weather forecast on televisions in my everyday life ever since. Everything was fine until the day we were about to take off, a storm just appeared. It was not very good because of the strong wind and heavy rain; therefore, all the scheduled planes had to postpone their flight until further notice from the central management.
Unfortunately enough, the storm made landfall for almost twelve hours since it started, which caused so many abhorrent issues to local citizens and almost enterprises, including the airline services. Consequently, it needed one more day to turn everything back to normal function so we couldn't make it to Bali.
We were all down in the dump for weeks as we waited for that fantastic trip so long. As a result, we felt disappointed when we didn't see Bali. Nonetheless, we move on as life does, and we revised our timetable to pay a visit to Bali after the New Year Holiday.
To access thousands of practice questions and instant feedback for all question types, go to the DET Practice Platform and experience everything with a FREE account. Regarding Speaking and Writing questions, the Duolingo English Test Practice Platform evaluates test-takers' answers based on Fluency, Lexical Sophistication, Lexical Diversity, Grammatical Accuracy, and Acoustic Features (Pronunciation). Feel free to check our video sample feedback.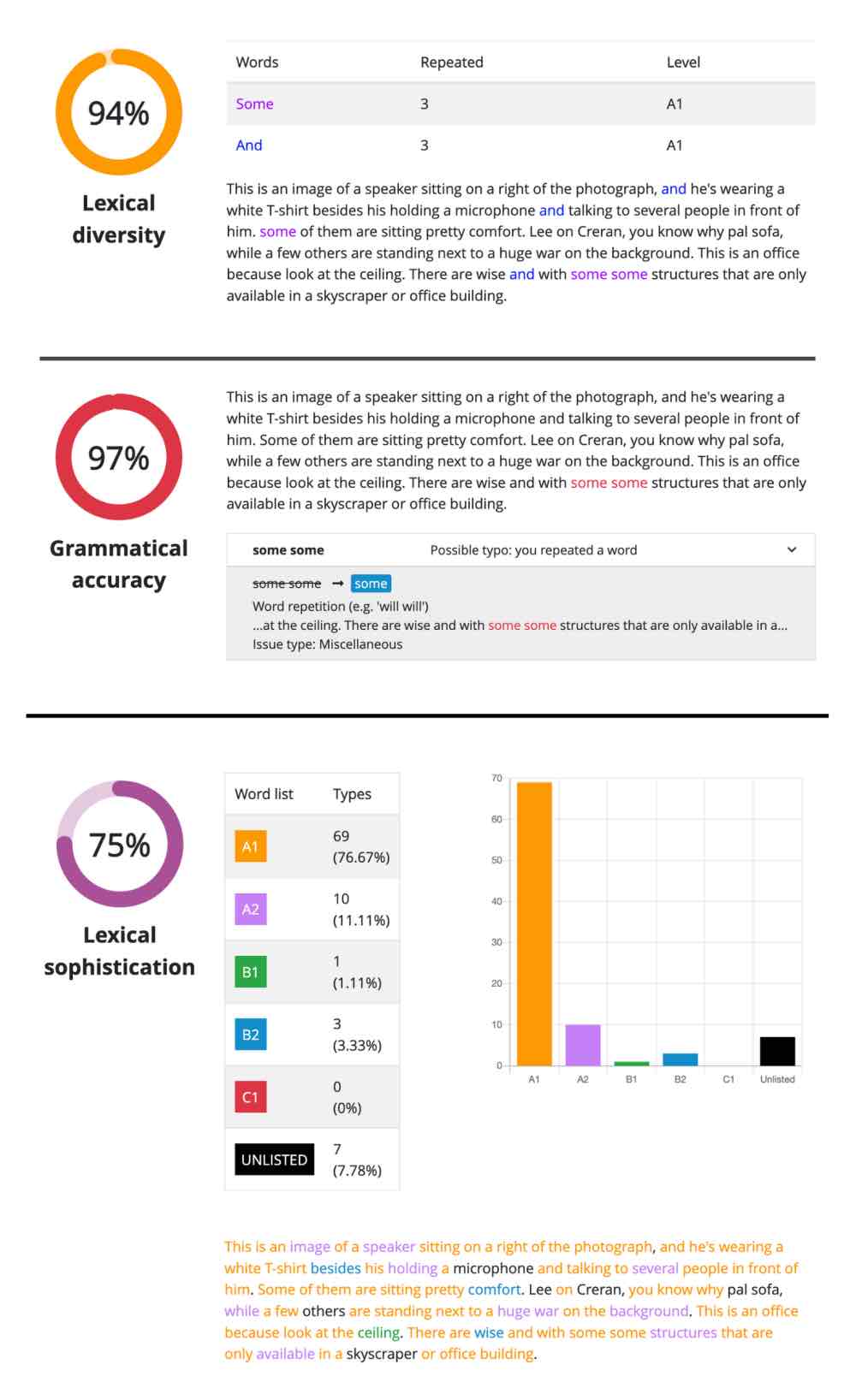 In addition, test-takers can share their Speaking and Writing questions in our Facebook or Telegram communities, and our Academic team will be delivering sample answers to support their Duolingo English Test preparation journey.