Achieving the Duolingo English Test desired scores is not an easy task, especially when test-takers aim for high scores. Some test-takers, need to retake the DET several times before getting what they want. Some failed due to violating the rules even though they didn't seem aware. Some failed, obviously, because they haven't fully understood the test.
Let's find out the top five (05) reasons why test-takers fail the DET on their first time. We are sure that you can learn from them and avoid similar mistakes on your test day.
1. Test-takers don't read rules thoroughly
First things first, the DET's prestigious and accepted by over 4,000 worldwide universities (updated in December 2022) because they maintain the integrity of the test by applying strict rules. Why are there so many rules? Obviously, the DET is an online test that allows students to take it in their comfortable space anytime they like. Not to mention that test-takers receive certified results in two working days (most of the time) after completing their tests.
As a result, test-takers need to fully adhere to all rules as it's the only way to maintain the DET value. Otherwise, test-takers will surely fail, and they need to retake the DET. More importantly, if students violate serious rules such as using outside materials or reading an available answer, they will be permitted to take the test again permanently.
Recommendation: Go check this article for all rules carefully to ensure your certified results.
2. Test-takers listen to others without understanding their situations
Some test-takers see successful cases like "I only prepared for three days and got this score" or "It took me two weeks for preparation". Students then start asking for advice, and what they receive is like, "Practice makes perfect! Just practice, take the test, and you get what you want". Really? To us, this kind of advice is way too bad as it doesn't help anything. It's too general and baffling. Why?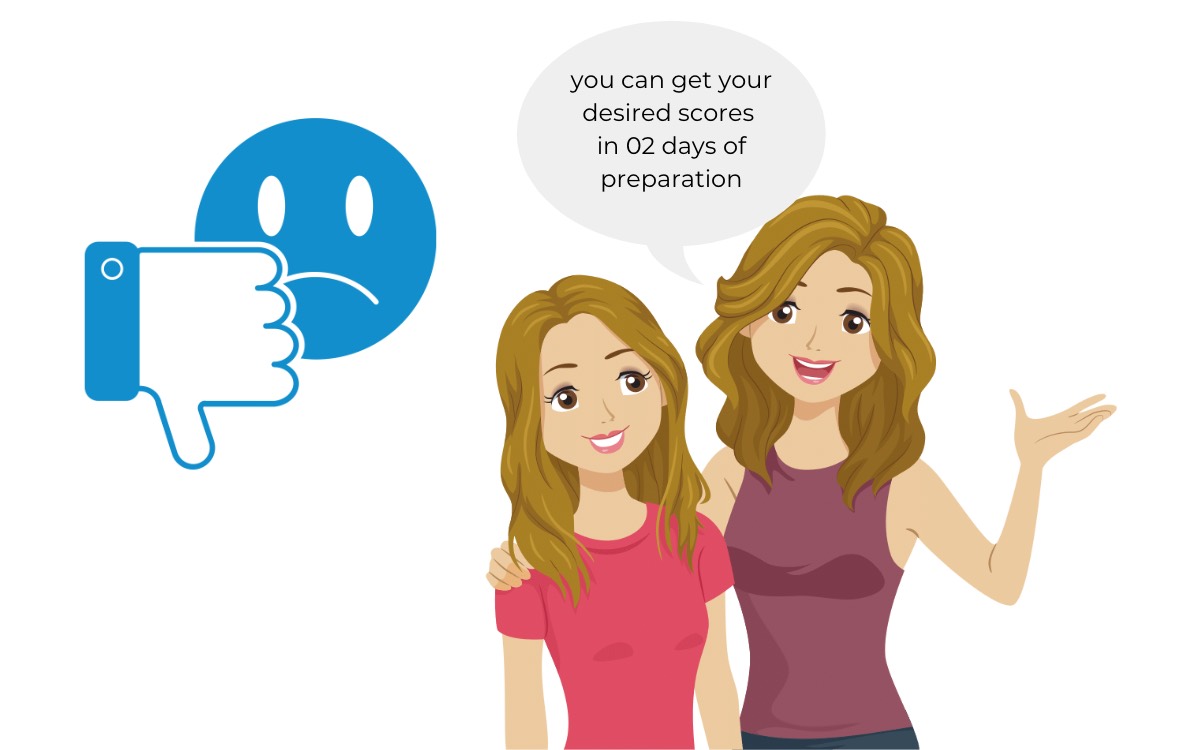 First and foremost, yes, some test-takers only need several weeks, especially some days to prepare. However, we don't know their English level and their desired scores yet. If a student excels at English (they have been learning English since their childhood), they only need a 100 overall score which is a pretty easy target to obtain. That student will likely get their desired DET scores in a couple of days because they just need to understand the test question types and their formats.
Secondly, that advice doesn't offer specific points to help students such as: How to study on a daily basis? What DET practice platform should I practice on? What tips and strategies should I apply for the test? And if what, in case I fail on my first attempt, what should I do next?
Recommendation: The first best step is to completely understand yourself before creating a suitable plan for studying. Please refer to our 05 Duolingo English Test preparation steps in the third reason to evaluate your English proficiency.
3. Test-takers don't spend enough time practice
Most test-takers think the Duolingo English Test is easier than IELTS or TOEFL because it's an online test, and students only need one hour to complete the test. "Thinking the DET is easy" is also one of the most common misconceptions.
From an "overconfident mindset", test-takers wouldn't mind practicing as much as they can because they believe they can get what they want easily. The DET is no different from the IELTS, TOEFL, or PTE in terms of proving English skills. The only difference is their question-type formats. In other words, test-takers need to spend enough time practicing in order to aim for their desired DET scores.
This case happened to so many test-takers already, they want to improve their Production or Conversation sub-scores for 15 to 20 but only have A FEW DAYS to practice. How could this be possible? For example, one test-taker shared his case in a Duolingo English Test community, he took the first one on 21 Feb 2023 and scored 85 in Production. The second time he took the test was on 27 Feb 2023, and he got 80 scores in Production. Production sub-score evaluates our Speaking and Writing, and how much do you think you are able to improve in 06 days? Not a chance to bridge that gap of 15 to 20 scores! It will likely need 4 weeks at least to improve 15 Production scores!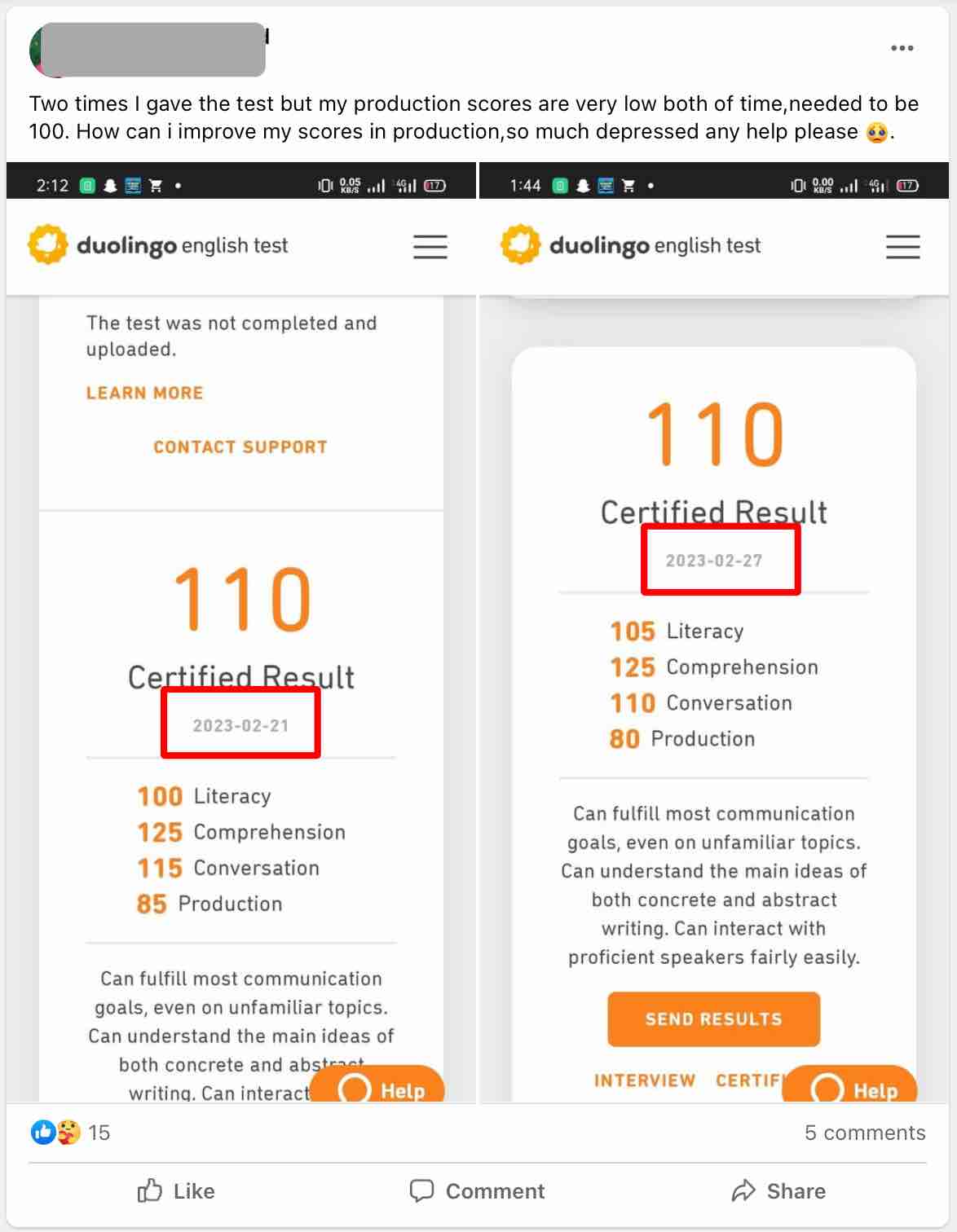 To know how many hours (weeks or months) you should practice day in and day out and how to prepare for the Duolingo English Test for beginners, let's look at this article, "Five simple preparation steps for beginners". By following this strategy, test-takers also understand their situation thoroughly to prepare the best for the test.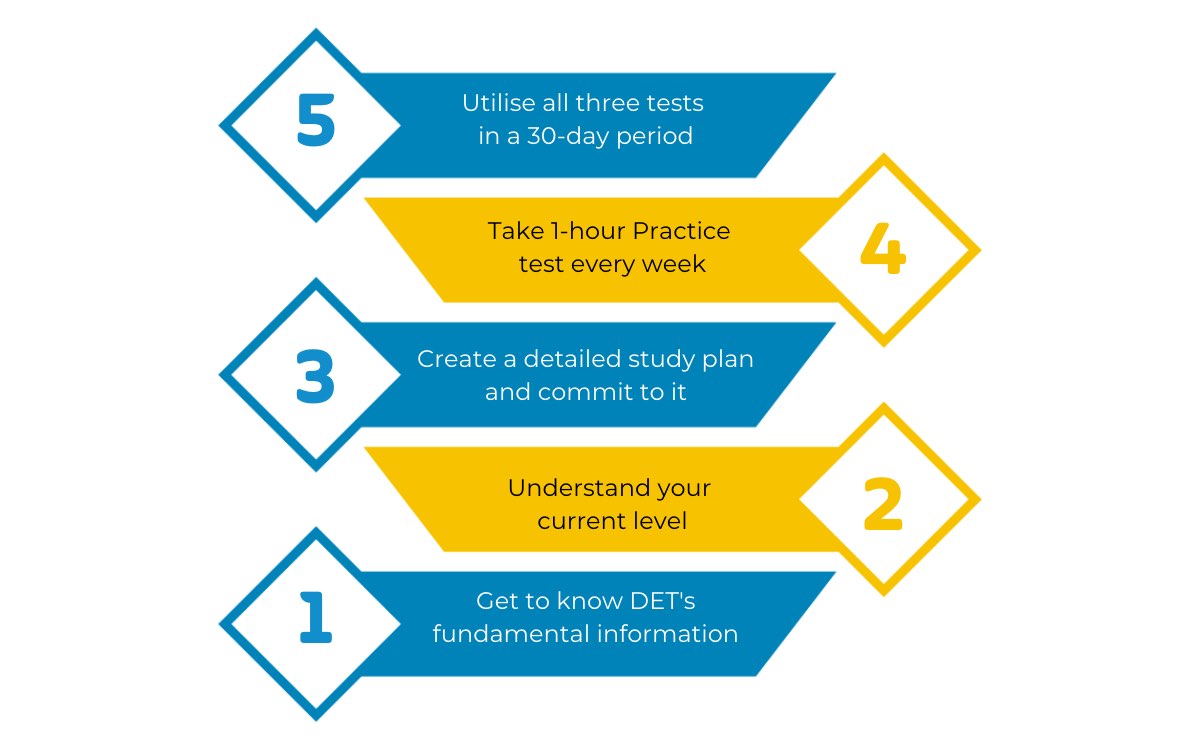 Recommendation: It's the same as the second reason, please kindly read the 05 DET Preparation steps carefully and create your study plan to define how many weeks or months you need to practice for your DET desired scores.
4. Test-takers don't have feedback on their practices
Again, the Duolingo English Test is the same as IELTS, TOEFL, or PTE when it comes to English proficiency tests. To improve our DET scores or general English skills, we need to learn from our mistakes. When we go to school and make mistakes, teachers offer us feedback and how to improve later. Therefore, test-takers need to find feedback for their improvement, and we have some suggestions.
Find a speaking partner: Having Speaking partners helps us improve our Speaking-Listening skills through practice and feedback. Test-takers should inform their partners about how important feedback is in identifying their mistakes and advancing their skills. Thus, all English learners will pay close attention to their partners' mistakes and share all their mistakes with their partners for improvement.


cre: DET Practice




Find a writing tutor: Writing tutors support test-takers in identifying their writing mistakes or have better answers to writing questions. Furthermore, writing tutors also help students write more organised and coherently. If test-takers cannot find writing tutors, we can help you out with our Correction Services.


Take live classes: This is the best choice because we learn in real-time with trainers. We can ask any questions and get immediate answers from trainers in addition to tips and strategies for all question types. However, live classes, most of the time, cost an arm and a leg.


Practice on the DET Practice Platform: If test-takers cannot afford Correction Services and Live Classes, or they cannot even find Speaking partners then the Duolingo English Test Practice Platform is a great option for DET Preparation. The DET Practice Platform offers thousands of practice questions besides instant feedback for all question types. Regarding Speaking and Writing questions, we evaluate test-takers' answers based on Fluency, Lexical Sophistication, Lexical Diversity, Grammatical Accuracy, and Acoustic Features.

Feel free to take a look at this video sample feedback for Speaking questions.


cre: DET Practice





On top of that, there are tons of Full DET Practice tests, which offer everything similar to the actual ones, especially estimated scores for overall, sub-scores, and each question type. By taking one Full Duolingo English Practice test weekly, students can learn from their mistakes and keep track of their proficiency until the test day. In other words, students always know how to study, and what question types they should focus on in order to obtain their desired scores.





cre: DET Practice

Take an on-demand Duolingo English Test preparation course: This DET Preparation Course is brought to you by a 10-year teaching experienced trainer from Australia. The course is divided into three main parts, which cover basic information about the DET to Tips and Strategies for all question types to help students achieve their DET desired scores. Let's take a look at it, review all trial lessons, detailed study road map and make your decision.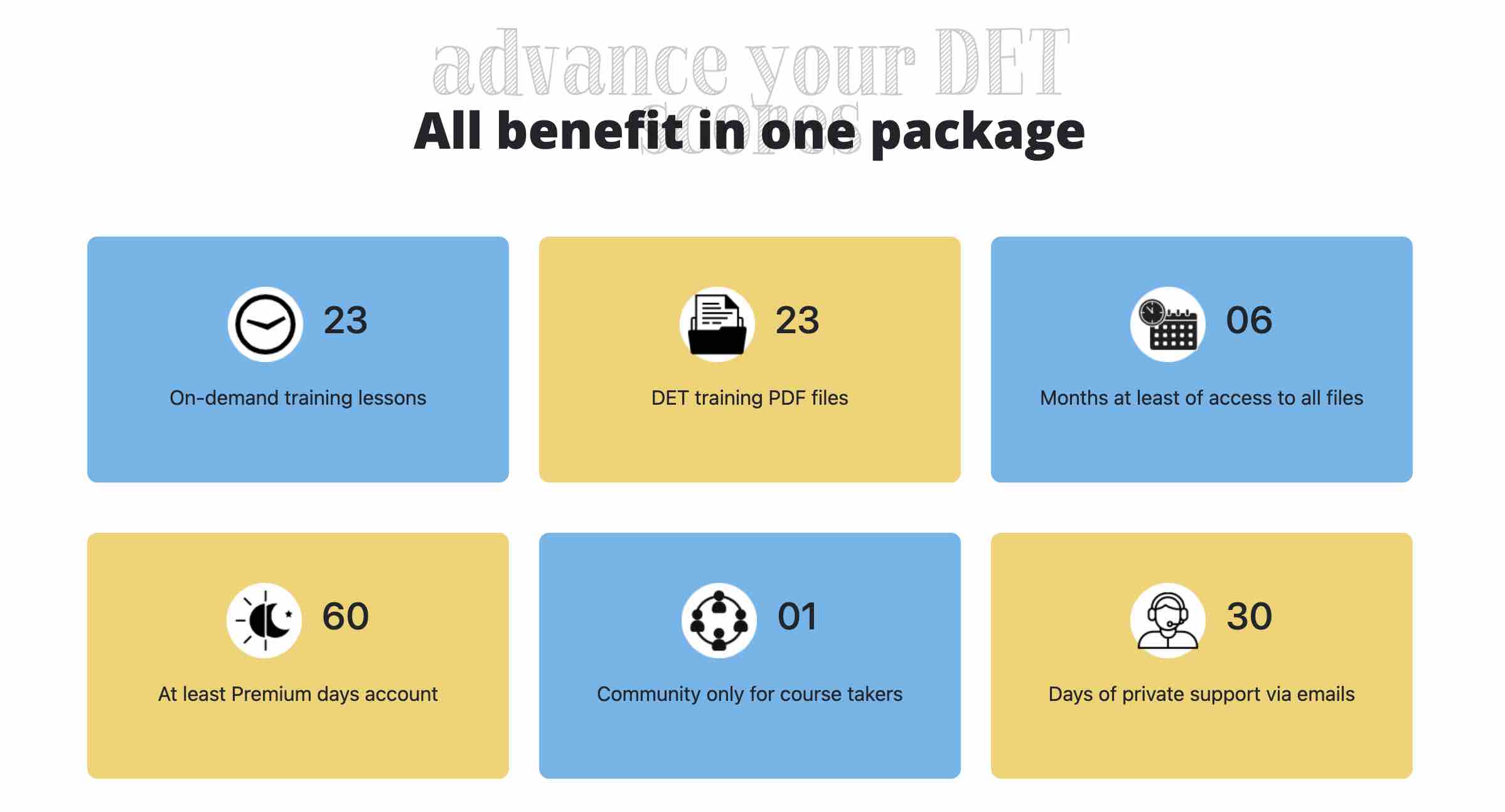 Recommendation: There are other DET Practice Platforms in the market, kindly go experience them all to find the most suitable one and then commit yourself to it.
5. Test-takers haven't known how to utilise their skills
To aim for high scores, students need to utilise their skills. We know lots of students who are able to achieve their desired scores, but they couldn't do it the first time because they don't know how to utilise their skills. To use most of our skills, we need Duolingo English Test practicing materials, tips, and strategies.
Tips and strategies for each question type from experienced test-takers and trainers help us apply practical tactics to practice every single day. Moreover, students have thousands of practicing questions on the Duolingo English Test practice platform to get familiar with all question types and see their improvement through everyday practice.
Recommendation: DET takers should not be overconfident to put everything they got into practice, including DET on-demand preparation courses, DET Practice Platform, and so on.
The last word, always keeps track of your progress wisely every week and revise your plan if needed.
For now, go to the DET Practice Platform, and create a FREE account to access all question types and instant feedback to boost your scores.