If you haven't made up your mind on what English proficiency test to take, and you are looking for reasons to take the Duolingo English Test. This article is for you.
The DET was first introduced to the market at the end of 2016, and it's getting more and more prestigious day after day. Countless students have taken the test, and here are the top 09 reasons students choose the Duolingo English Test instead of others such as IELTS, TOEFL, or PTE.
The original content was created by the Duolingo English Test team on YouTube, so here we revise it a bit to share in our blog.
1. Affordable
Each Duolingo English Test costs $59. But if we purchase a package of 2, the price is just $49 each, which is a pretty good deal.
To do a small comparison with other English proficiency tests, such as IELTS, TOEFL, or PTE, the DET price is just a quarter of the others.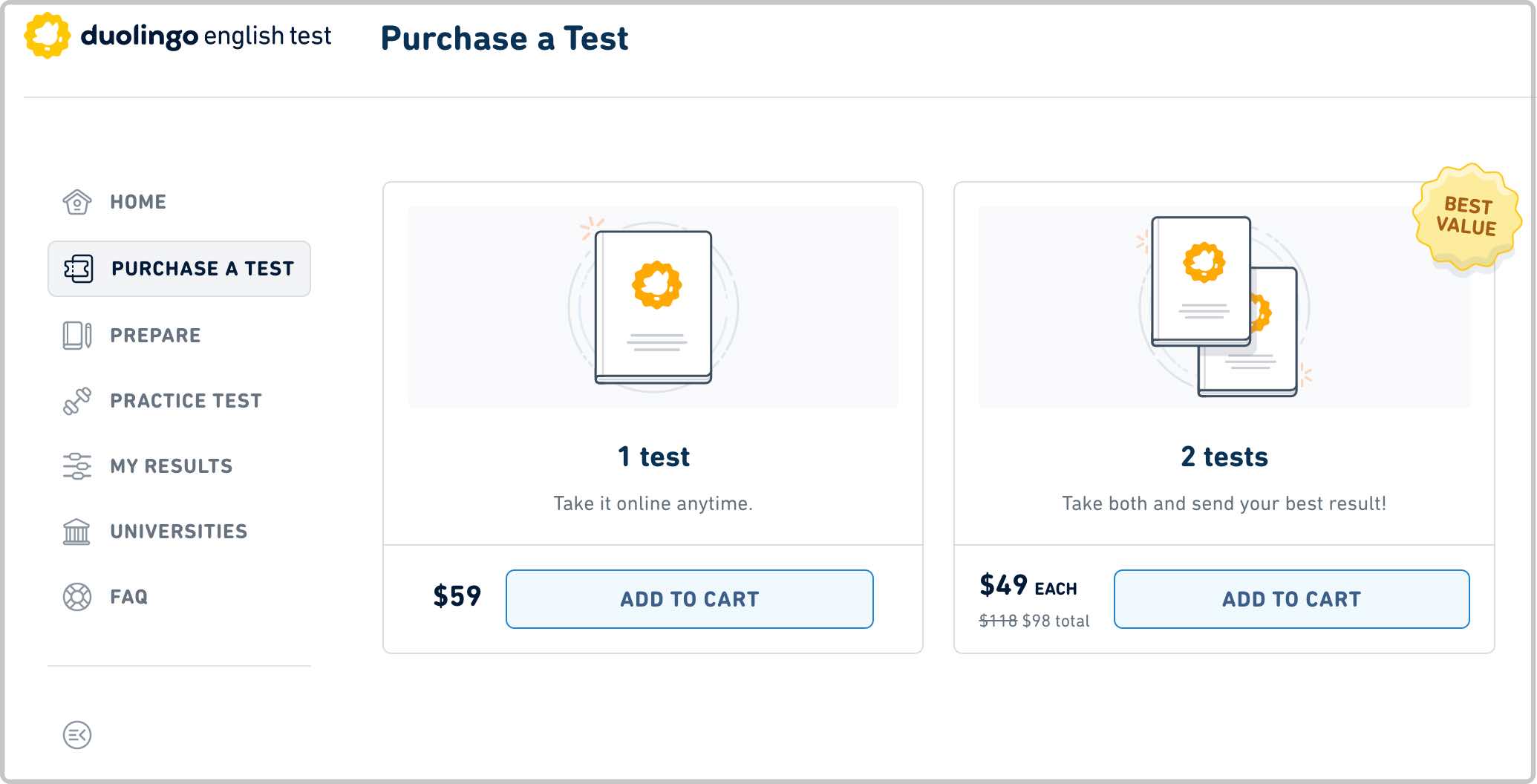 2. Sharing is free
Test-takers can share with an unlimited number of universities without additional fees. Simply choose a university that you want to share your certified result with and follow the website guide to send it.
3. Fast
If you spend 3 hours taking IELTS or TOEFL, you only need 1 hour to take the Duolingo English Test. According to research, human attention spans can range from 2 seconds to around 20 minutes, and our average attention span decreased by almost 25% from early 2000 to 2015. As a result, it's super challenging for test-takers to take a 3-hour test. In other words, it's less stressful and we are able to concentrate more if we take the DET.
4. Convenient
Test-takers can take the DET any time, anywhere without booking appointments in advance. We simply need our laptop (or PC) and a stable wifi connection to take the test in the comfort of our home.
5. Trusted
The Duolingo English Test is currently accepted by over 4,000 prestigious universities all over the world, and the number is increasing every single day. We can name a few such as Stanford, Yale, Columbia, Harvard Medical School, and so on.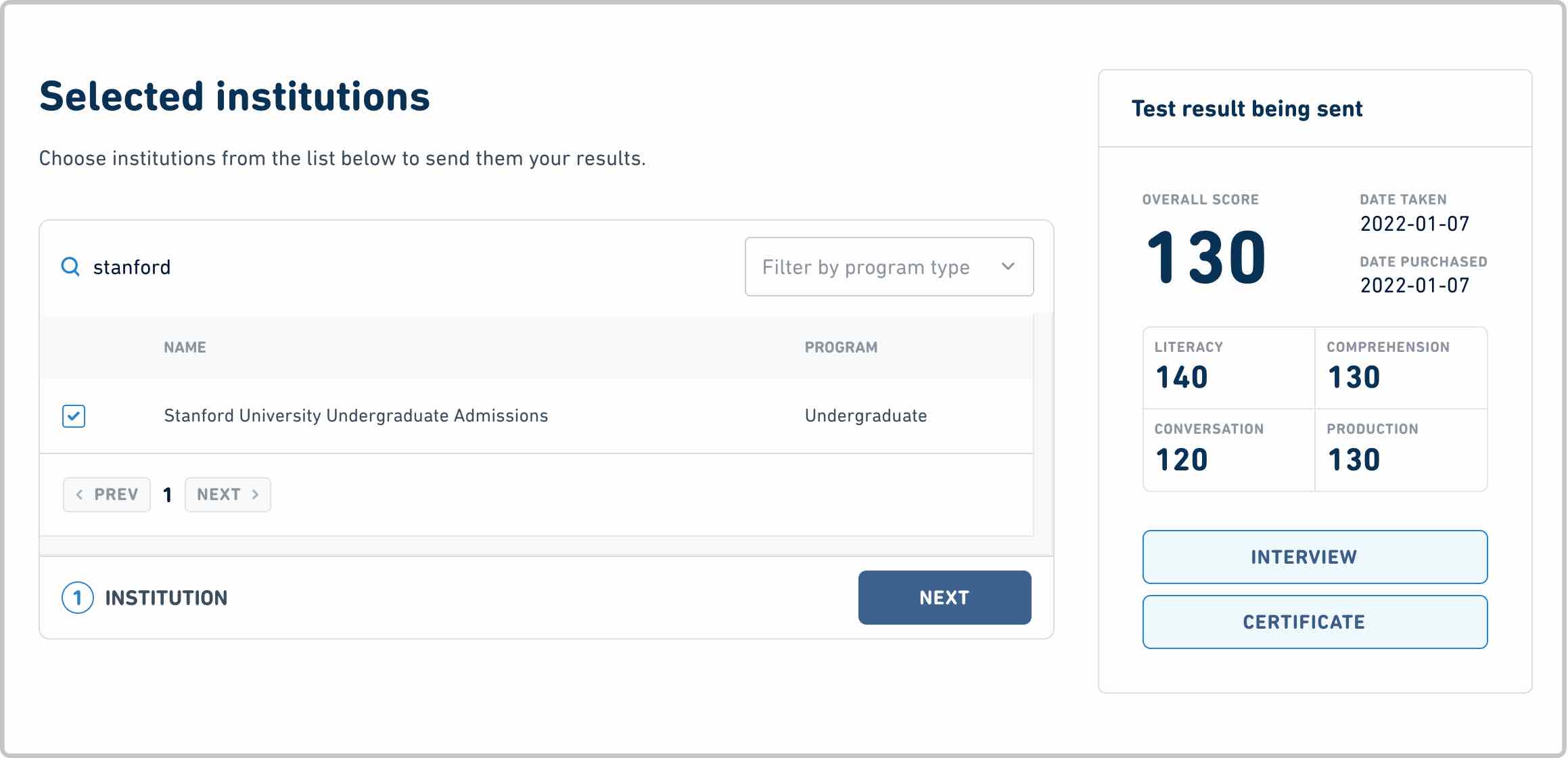 6. No hassle
When we take the IELTS or TOEFL, most of us need to go to the testing centers, which's time-consuming and lost so much energy. In that case, it's so bad for test-takers as they may undergo negative situations on the way to the testing center, such as accidents.
7. Anxiety-reducing
Definitely, it's our instinct to be afraid if we are judged or monitored by someone. It's all gone when we take the Duolingo English Test because we sit at home with our computer, and no one else is there.
8. High-quality design
We can call it the user experience. It's a collaboration from lots of departments, including researchers, designers, engineers, and more to ensure the best quality for test-takers while taking the test.
9. Free Resources
The official Duolingo English Test website offers 30-min practice tests free of charge test-takers can take as many as they like. However, the practice test may not include some question types in the certified test. Besides, we only receive an estimated overall score.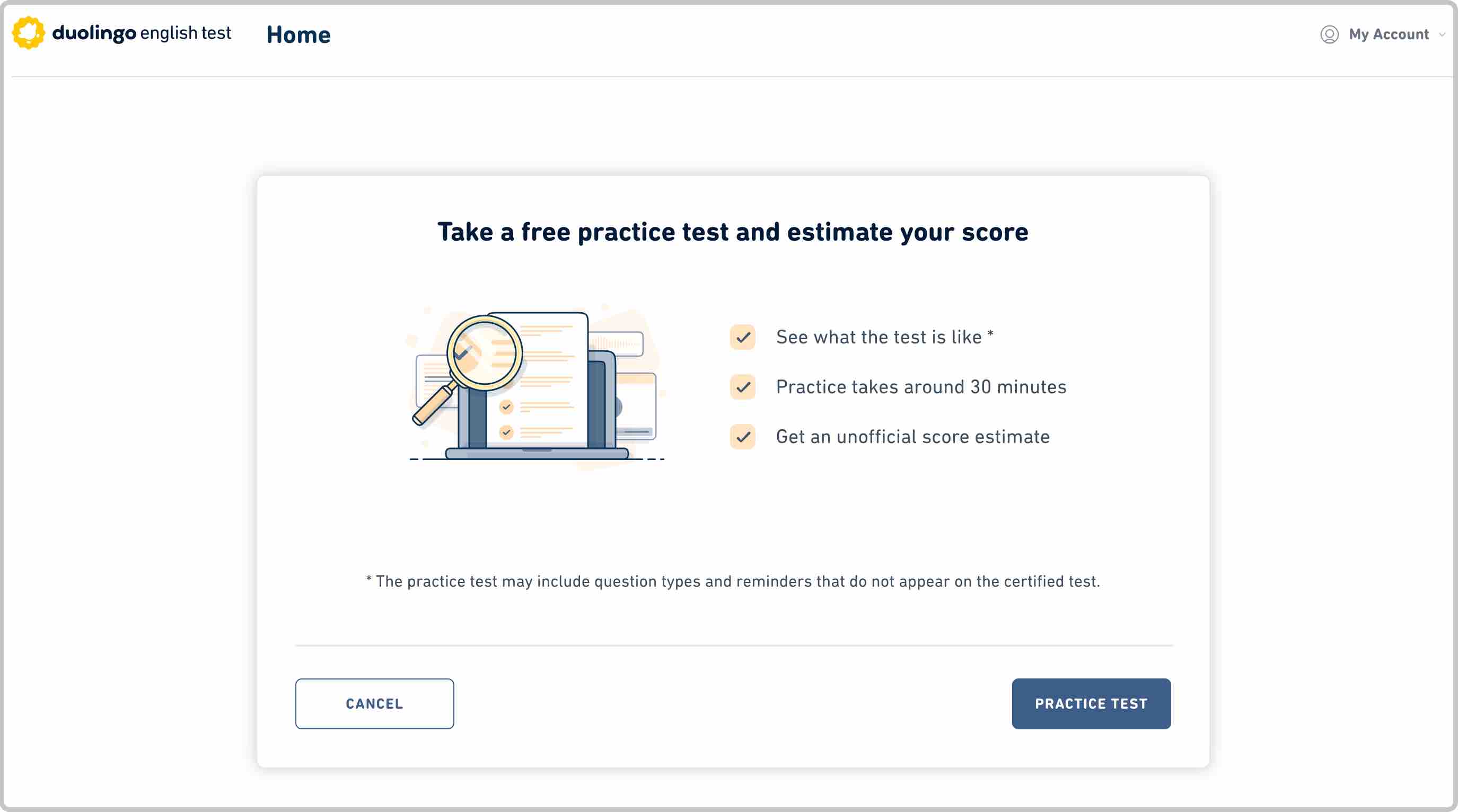 * Special reason
To those who want to take a 1-hour FREE test, kindly review this video. Our DET Practice Platform offers a 1-hour FREE Duolingo English Test to all users. At the end of the test, test-takers receive the following feedback.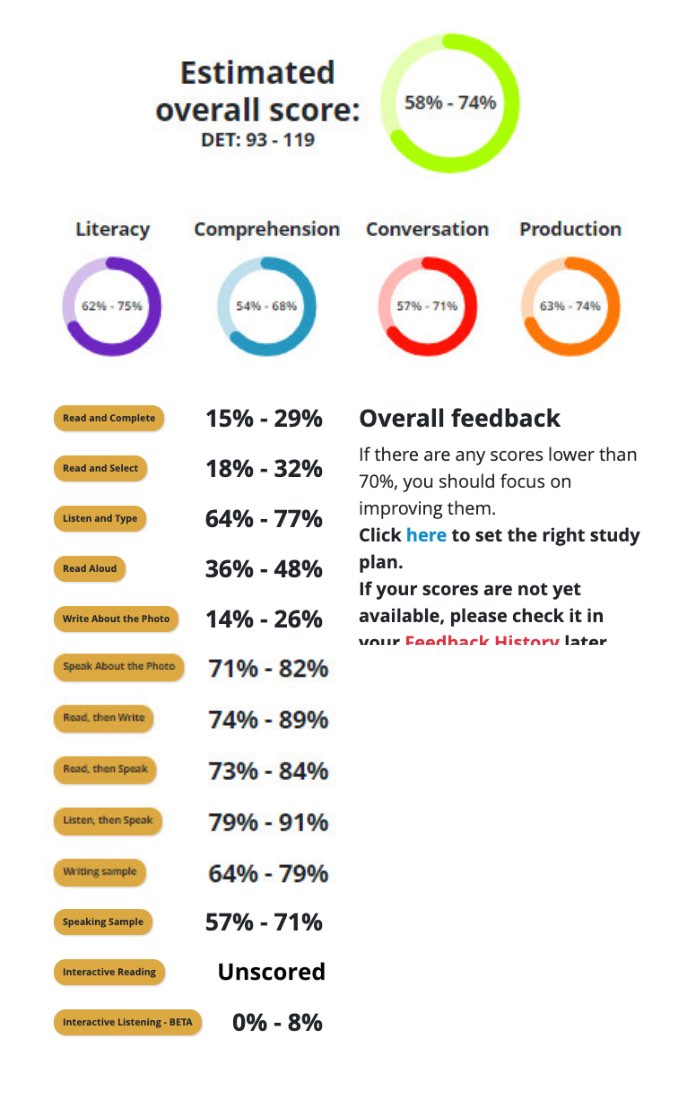 Users can understand their weak question types from the feedback to create a detailed study plan and improve their scores. Learn more about our FREE Full Test here.
In the DET Practice Platform, users can get all the following benefits to support their preparation.
Over 3,000 Practice questions similar to real questions;

Hundreds of Interactive Reading and Interactive Listening sets;

At least 15 Full Duolingo English Tests;

Instant feedback for all question types;

AI-scoring system evaluates your Pronunciation, Grammar, Spelling, Lexical resources, and so on;

Three supportive vocab lists;

An integrated dictionary.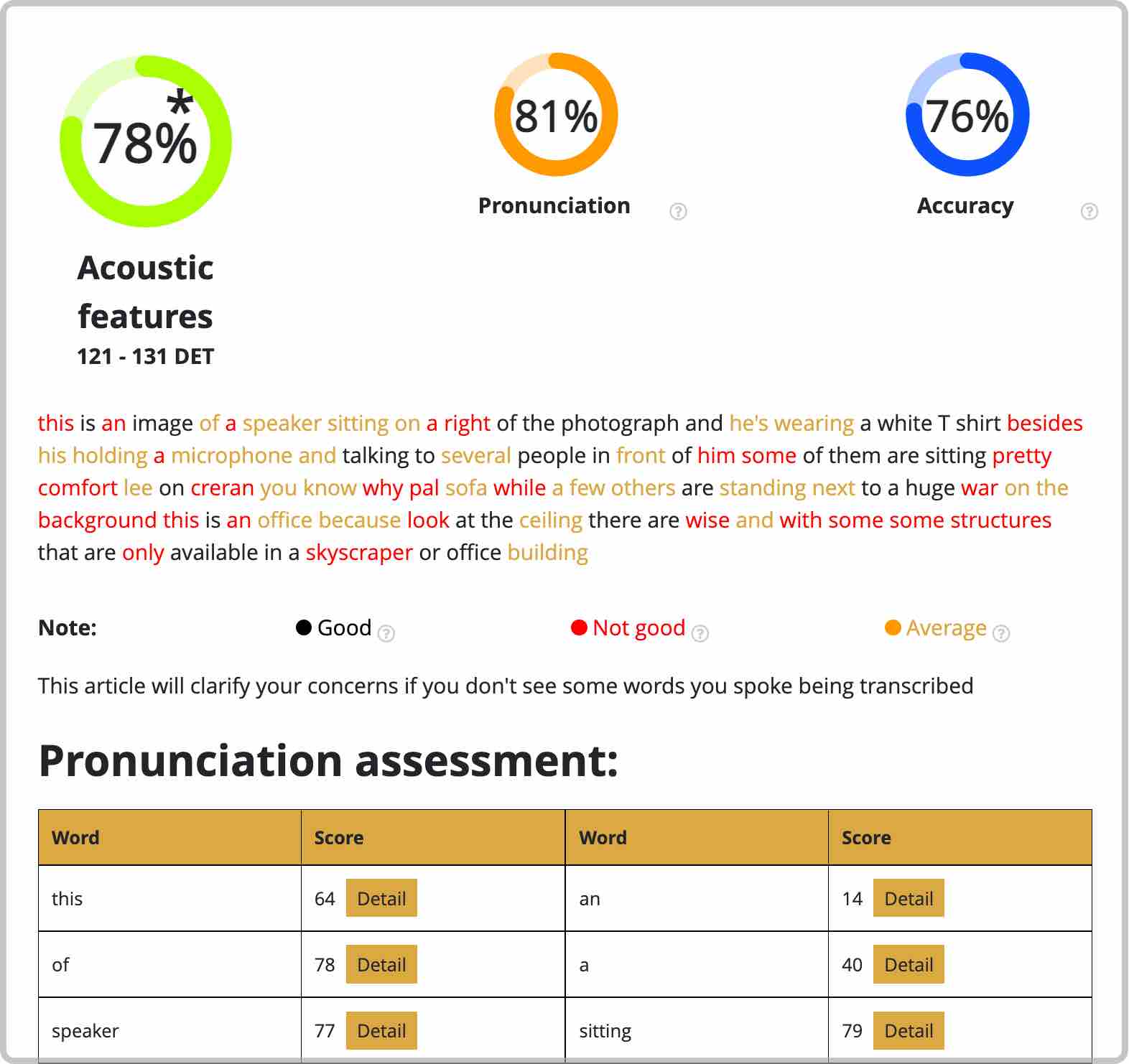 On top of that, our Academic team is updating new questions on a weekly basis, so you should not worry about running out of questions. Here's a video sample of our feedback for Speaking questions.
Let's visit the DET Practice Platform, create your free account, and start boosting your scores today.